Watersheds
>
Watershed Care
Watershed protection & enhancement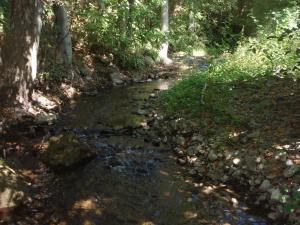 Healthy functioning watersheds are vital for a healthy environment and healthy economy. Everything we do on the land has potential to impact our watersheds for the better or for the worse. Watersheds are complex, dynamic systems, containing various parts that continually adapt to changes in other parts. Small changes occurring in one part of the system can result in large changes in the overall system. Therefore, individuals, citizen groups, and government all have a role in maintaining healthy watersheds.
Learn More
8 ways individuals can care for their watersheds
Responsible creek stewardship is essential for creek stability, good water quality, reliable water supply, and healthy habitats. Whether or not you live along a creek, it is important to be a good watershed steward. Click here for 8 watershed care tips for Napa County residents.
Healthy Stormdrains, Healthy Watersheds
Stormwater runoff occurs when precipitation from rain or snowmelt flows over the ground. Impervious surfaces like driveways, sidewalks, and streets prevent stormwater runoff from naturally soaking into the ground. Stormwater can pick up debris, chemicals, dirt, and other pollutants and flow into a storm sewer system. Communities can ensure healthy stromdrains by making sure that trash and other pollution is not in the path of rain water flowing towards storm drains. Communtiites can also create more permeable landscapes so that more rainwater soaks into the ground instead of entering the storm sewer system. Learn more
Managing watersheds for sustainable use
Napa County, along with communities across the nation, has recognized that the best way to protect our vital natural resources is to understand and manage them on a watershed level. Working at the watershed level is an effective and efficient way to sustain local economies and environmental health. Landowners, local governments, conservation organizations, and individual citizens all over the county are working together to find ways to maintain and improve the health of our watershed lands. Click here to learn more about activities of local watershed groups.
Protected lands in Napa County
As the population of Napa County grows and development pressure increases, setting aside areas protected from future development is becoming increasingly important for preserving agricultural land, wildlife habitats, recreational sites, and scenic open space.
Protected lands account for 118,917 acres or just over 20% of the County. Protected lands are owned by:
Bureau of Land Management - ~ 37,000 acres, the majority of which lies within the Putah Creek Watershed
Bureau of Reclamation - ~9000 acres around Lake Berryessa
California State Parks - Bothe-Napa Valley and Robert Louis Stevenson parks
Forestry lands - Las Posadas State Forest
California Department of Fish and Game - Napa/Sonoma Marsh, Napa River Ecological Preserve
Napa County Regional Park and Open Space District - Moore Creek Open Space Park
Local city governments - watershed lands surrounding Milliken and Hennessey reservoirs
The Land Trust of Napa County - Connolly Ranch, Archer Taylor Preserve
In addition to the permanent preserves, The Land Trust has worked with over 50 private landowners to preserve over 20,000 acres of land through conservation easements. A conservation easement is a beneficial voluntary tool used by landowners to protect their land while retaining ownership. It provides potential income tax savings and allows landowners to legally restrict future development on their properties.
Source: Napa County Resource Conservation District
Restoring watersheds - guides and resources
Source: Stillwaters Sciences
Conserving water for fish, farms, and homes
Water is California's most precious natural resource. How we manage it today will affect nearly every aspect of our future.
When our state enjoys a year of abundant rain and our reservoirs are full, it is easy to think that our water supply is endless. But it's important to remember that in California, the next drought may be just around the corner. Wasting even small amounts of water today means less water is available for the dry times we know will come again.
Water conservation tips from the City of Napa
Learn more about saving water from Save our Water.org
Create Watershed and Wallet Friendly Roads
Storm-proofing road systems can have an immediate benefit to local streams and aquatic habitat as well as protect the road surface and reduce annual road maintenance costs. If storm-proofing treatments are implemented correctly, future storm runoff can cleanse the streams of accumulated coarse and fine sediment rather than deposit fine sediments in areas where it impairs fish habitat. Learn what you can do to storm-proof roads and improve water quality.