Groundwater Monitoring
Overview
Given the importance of sustainable groundwater resources in Napa County, long-term, systematic monitoring programs are essential to provide data that allow for improved evaluation of water resources conditions and to facilitate effective water resources planning.
Groundwater data availability in Napa County varies widely among the subareas. The bulk of the historical and current groundwater level and quality data is located in the Napa Valley Floor Subareas. Recent efforts have expanded the geographic extent of data collection to other subareas.
In 2017, groundwater level data were available for 107 sites throughout the county, including 13 of the 17 groundwater subareas and 61 sites within the Napa Valley Subbasin . The majority of these sites were privately owned wells volunteered by their owners and monitored by Napa County. Here is a video that highlights the importance of the program and the data collected.
Precipitation was well above average for the 12-month water year that ended in September 2017, based on records from the long-term gauge at the Napa State Hospital in Napa. This marked the first year since water year 2011 that the Napa State Hospital gauge recorded above average precipitation. The precipitation total for water year 2017 at the Napa State Hospital gauge was 45.5 inches, while the average water year total from 1920 to 2015 was 24.86 inches.


Groundwater level trends in the alluvial aquifer system of the Napa Valley Subbasin of the Napa-Sonoma Valley Groundwater Basin are stable in the majority of wells with long-term groundwater level records. While many wells showed at least some degree of response to recent drought conditions, the water levels observed in recent years are generally higher than groundwater levels in the same wells during the 1976 to 1977 drought. Groundwater levels showed continued stable conditions with decreasing depths to groundwater in 2017, consistent with the very wet water year conditions.
Although designated as a groundwater subarea for local planning purposes, the majority of the Milliken-Sarco-Tulucay (MST) Subarea is not part of a groundwater basin as mapped by the California Department of Water Resources (DWR). Groundwater level declines observed in the MST Subarea as early as the 1960s and 1970s have stabilized since about 2009. Groundwater level responses differ within the MST Subarea and even within the north, central, and southern sections of this subarea, indicating that localized conditions, whether geologic or anthropogenic in nature, might be the primary influence on groundwater conditions in this local subarea.
In the past few years, Napa County has developed a more focused understanding of the geology that controls the occurrence and availability of groundwater. With this updated geologic information and with assistance from community members serving on the Groundwater Resources Advisory Committee, the County expanded the number and distribution of wells that it monitors through a concerted effort to improve the understanding of groundwater resources countywide. Between 2011 and 2015 the number of County monitored wells increased from 47 to 100. In 2017, Napa County monitored 96 wells. Two wells previously monitored by Napa County left the monitoring network at the request of the owner in 2017. During the summer of 2017, DWR temporarily suspended monitoring efforts at four wells that it has monitored. That suspension was extended in response to multiple, large wildfires that burned in many areas around Napa Valley in 2017. Part of the monitoring network expansion in recent years occurred through the construction of ten dedicated monitoring wells at five sites in Napa Valley, designed specifically to provide data on the interactions between groundwater and surface water.
2017 Groundwater Level Monitoring Sites
Click image to view larger
Despite the recent monitoring network expansion, there are additional areas where data are lacking and additional wells are needed to fill data gaps. To request more information on options for including your well in the County's monitoring program, please contact Patrick Lowe, Napa County Natural Resources Conservation Manager, at (707) 259-5937.
The Basin Analysis Report for the Napa Valley Subbasin provides an updated sustainability goal for the Subbasin based on the requirements of SGMA (LSCE, 2016c). The Basin Analysis Report meets the functionally equivalent standard for alternatives to a Groundwater Sustainability Plan (GSP) in part by updating sustainability criteria for the Napa Valley Subbasin in conformance to the definitions provided in SGMA. To evaluate the condition of the Subbasin in relation to the sustainability goal, the sustainability criteria include measurable objectives and minimum thresholds developed to avoid the six undesirable results identified in SGMA (LSCE, 2016c). For SGMA purposes a "measurable objective" is a "specific, quantifiable goals for the maintenance or improvement of specified groundwater conditions" (Section 351). SGMA additionally defines a "minimum threshold" as "a numeric value for each sustainability indicator used to define undesirable results" (Section 351).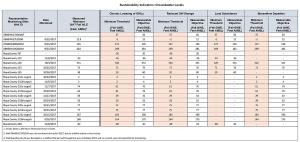 2017 Groundwater Sustainability Indicators
Click image to view larger
Groundwater levels recorded in 2017 were above the minimum thresholds established as sustainability criteria for the Napa Valley Subbasin for all 18 wells where data are available. Two wells where sustainability criteria have been established were not accessible due to wildfire damage or concerns about site safety resulting from wildfires.
The measurable objectives established in the Basin Analysis Report for the Napa Valley Subbasin provide a reasonable margin of operational flexibility under adverse conditions where applicable and utilize components such as historical water budgets, seasonal and long-term trends, and periods of drought. Groundwater elevations serve as the proxy for multiple sustainability indicators where reasonable. For representative monitoring sites where, long-term periods of record are not available, as in the case of the dedicated monitoring wells constructed in 2014, which were developed specifically to monitor groundwater-surface water interactions, measurable objectives established at these facilities will be reviewed and reevaluated as appropriate, as the collection of available data for each site expands to better reflect true long-term variability at those locations.
In the principal aquifer system of the Napa Valley Subbasin, the volume of groundwater in storage increased in both spring 2016 and spring 2017 relative to the prior year. The magnitude of the increase in 2016 was 1,586 acre-feet greater than the increase in 2017 despite much more precipitation occurring in water year 2017. This result is consistent with the finding that the Subbasin has been at a relatively full condition with respect to groundwater storage capacity.
Maps of saturated thickness and groundwater storage changes in the principal aquifer system show increases in saturated thickness and groundwater storage, primarily from St. Helena southward in the Subbasin between 2015 and 2016. A small area of less than two feet of saturated thickness decrease is mapped near Rutherford. The greatest increases in saturated thickness and groundwater storage occurred along the western margin of the Subbasin along Dry Creek. The change in saturated thickness and groundwater storage from spring 2016 to spring 2017 were also broadly positive, with no areas showing a decrease in saturated thickness greater than two feet.
Total water use in the Napa Valley Subbasin, including groundwater extracted from the Subbasin, surface water from sources within the Napa River Watershed, and imported surface water delivered through the State Water Project, is estimated to have been 34,793 acre-feet in water year 2016 and 34,142 acre-feet in water year 2017. Total estimated groundwater use in the Subbasin was 17,039 acre-feet in water year 2016 and 15,831 acre-feet in water year 2017. As noted above annual groundwater storage changes were positive in both water years 2016 and 2017, at 6,056 acre-feet and 4,470 acre-feet, respectively. Cumulative changes in groundwater storage show a net increase of 13,702 acre-feet from water years 1988 to 2017 in the principal aquifer of Napa Valley Subbasin.
Groundwater use in water years 2016 and 2017 was comparable to amounts used in recent years dating back to 2004. Over the full 30-year period, annual storage changes in the aquifer system have fluctuated between positive and negative values, generally in accordance with the water year type. Cumulative changes in groundwater storage have also fluctuated between positive and negative values, indicating stable groundwater storage conditions and the absence of chronic depletions of groundwater storage. Groundwater use in the Subbasin in water years 2016 and 2017 remained below the sustainable yield range of 17,000 to 20,000 acre-feet per year identified in the Basin Analysis Report. Together, the findings presented in this report regarding groundwater conditions at representative monitoring sites, changes in groundwater storage, and groundwater use demonstrate that the Napa Valley Subbasin has continued to be managed sustainably through 2017.
Interactive Map
Using the map below, click "show legend" to see map data layers, click on specific areas to find more information and links to subarea groundwater monitoring results, levels and trends. Enter your address, city or zip above the legend to zoom to an area of interest.
To navigate to groundwater subarea pages, use the links below. Links can also be found in the popups when clicking on certain subareas in the interactive map.