8 Stewardship Tips
1. Keep yard litter out of creeks, off the street, and out of ditches and stormdrains
Yard litter will clog storm drains and/or be transported to the creek. Green waste can be disposed of via curbside pick-up or taken to the Napa Recycling and Waste Service Composting Facility.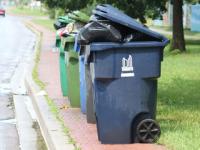 2. Properly irrigate lawns and gardens
Use meters, timers, or other measuring devices to control water use. Over-watering adds water, excess fertilizers and pesticides, and soil to ditches and stormdrains. Observe irrigation carefully. If water is running off its intended landscape, you are likely applying too much water in too short a time period.
3. Compost leaves, grass clippings, and other organic waste away from the creek
Never dump leaves, grass, or other organic waste onto creekbanks or into the creek. Although leaves and other organic waste are biodegradable, adding them to the creek system depletes oxygen in the water and can stress or kill fish and other aquatic life. It also suppresses vegetative growth, which helps to stabilize banks.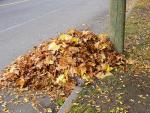 4. Consider alternatives to impervious concrete
Pervious surfaces such as interlocking pavers, flat stones, and decking allow rainwater to infiltrate the soil. Consider this type of material when installing a new patio or rebuilding a walkway or driveway.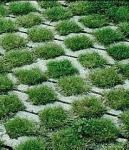 5. Avoid or minimize use of fertilizers and pesticides
Many home gardeners over-apply fertilizers and pesticides (including herbicides, fungicides, and insecticides) -- always follow application directions. If used excessively, fertilizer can make its way to the creek and create algal blooms that deplete oxygen supply in the water. Excessive amounts of some nutrients are toxic to aquatic life. Avoid applying fertilizers and pesticides during the rainy season or on windy days. Pesticide drift threatenes riparian plants and aquatic life. Store chemicals in a protected area to avoid runoff. Our Water Our World promotes the use of nontoxic chemicals in the home and on the yard.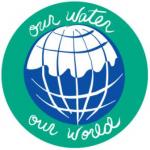 6. Use water legally and with great care
Make sure you have a permit to take water from streams and that you do not exceed your allocation. Allow flow to continue in the creek. Like you, creek organisms need a continuous water supply to thrive.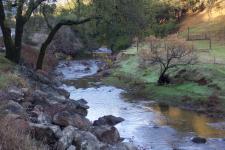 7. Preserve and promote native creekside vegetation
Native riparian vegetation growing within a creek corridor helps to stabilize streambanks and provides wildlife habitat and shading of the creek. In times of flooding, a well-vegetated streambank may provide protection for property. Native seedlings represent future replacements for aging vegetation and also add rooting strength to the bank.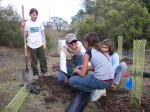 8. Landscape with low maintenance native plants
Native plants are more tolerant of drought conditions and are better suited to local soils and pests. Check out native plant gardening books, such as Designing California Native Gardens by Glenn Keator and California Native Plants for the Garden by Carol Bornstein. If planting non-native plants, avoid highly invasive ornamental plants. Click here for a list of plants to seek out, and a list of those to avoid.