Watershed Assessments
Napa County residents are becoming increasingly interested in preserving, managing and enhancing local stream systems. Landowners, agencies and land managers are evaluating ways in which their practices can be made more fish friendly, and increasing numbers of individuals and community groups are involved in habitat restoration projects in riparian areas.
Most landowners wish to protect riparian resources while optimizing the value and productivity of their property. These two goals sometimes conflict. An understanding of stream processes and riparian habitat can help landowners manage their property productively while conserving riparian resources, and even enhance property values. In addition to providing basic information about riparian corridors, these web pages are intended to assist landowners, schools and community groups with the planning and implementation resources for preservation, management and restoration of riparian systems.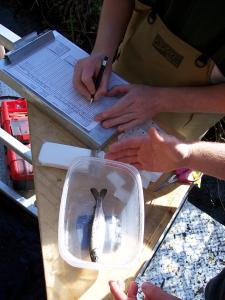 Watershed assessment, implementation of restoration projects, and monitoring for project effectiveness are all vital components of habitat restoration. Watershed assessments are important to determine where data gaps exist and to prioritize restoration projects within the watershed. Assessments can be watershed-wide, encompass a sub-watershed, or cover a specific area within a watershed that is of special interest – for example, a parcel of land under consideration for acquisition by state or local natural resource agencies. Assessments provide baseline information about an area that includes previous research, data gaps, and current conditions. When an assessment for an area is complete, further study may be warranted if data gaps are identified. Restoration project planning should occur after baseline conditions are known and should be watershed-wide in scope. Individual projects should be carefully planned for maximum effectiveness by restoration professionals based on the most current research, but in many cases, well-trained volunteers can accomplish implementation of restoration projects. Implementation may involve several steps, for example, invasive plant removal several times in the months prior to planting.
Some restoration projects may begin two or three years prior to actual planting. To ensure that genetically appropriate material is planted, seed and other plant material is collected in nearby areas. Some plants are then grown in a nursery while others may be planted directly on-site.
Monitoring is a vital aspect of habitat restoration that is often overlooked and can be difficult to fund. By monitoring restoration projects, it is possible to determine whether the methods used are effective in achieving restoration goals. Monitoring programs should measure quantifiable parameters such as seedling survival, water temperature, turbidity, presence of native animals, or cover of exotic vs. native plant species. Monitoring protocols for vegetation surveys, stream surveys, wildlife surveys and many other aspects of restoration have been developed and are available to guide monitoring programs. The results of monitoring programs should be continually compared with goals for each project and adaptive management measures should be implemented to ensure that goals are reached.