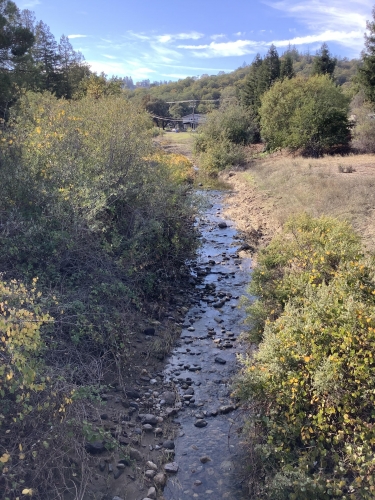 Stream Watch Volunteers Needed!
Nov 10, 2021 at 3:15pm
What is Stream Watch?
Stream Watch is a community science program organized by Napa RCD and Napa County Watershed Information and Conservation Council. Volunteers make observations at select creek sites about whether or not there is water in the creek. They also note how much trash they see. This information will be compiled over several years to learn more about our creeks and how we can best take care of them now and as our climate changes.
Explore Your Watershed
For people looking to contribute to this Community Science project, but who don't always have the time to visit a site every single week!
You can provide valuable information by adding an observation at any of our sites at any time of year. Don't know where Garnett Creek is? Take a Saturday drive and find out!
Adopt a Stream
Make regular observations at a single site throughout the rainy season. We will notify you when to start and stop to provide the best picture of when streams start and stop running. View the sites in the map below, pick the one or more that work for you.
How to Make an Observation
Contact Ashley@NapaRCD.org for login credentials. If you have signed up for the Adopt-a-Stream option prior to Oct 1, 2021, you should have received login instructions directly.
Use THIS LINK to log in and make your observation.
Follow the directions on the map to get to your site. Please follow all safety instructions! Take your photo and make note of whether the stream is dry, has isolated pools, or is flowing, and if there is trash in or around the waterway. Once you are safely off the roadway, upload your photo and observations.
Your observation will be reviewed by Napa RCD and added to the database. You can view the approved observations in the tool below: