Information
>
Historical Ecology
Historical Ecology
Understanding the historical landscape provides a template for strategically recovering selected ecological functions. Historical ecology can help us decide the next steps toward better ecological health.
What was the Napa River Watershed like in the past?
The Napa Valley was moist, it naturally stored water for the long summer drought.
There were thousands of acres of seasonally wet meadows surrounding pockets of tall tule marsh. The river bed was not much lower than the valley floor, and flood water spread into sloughs and wetlands.
The river divided and reunited, creating natural islands hundreds of acres in size. Many of the tributaries did not connect directly to the Napa River, but dissipated into valley wetlands, recharging groundwater. As the rest of the valley dried in the summer months, the wetlands released water to the river, which helped maintain its flow
On the well-drained tributary fans, sloping gently between the valley bottom and the adjacent hills, grand valley oaks flourished. Able to reach the seasonally receding groundwater table, these majestic trees dominated the drier parts of the valley.
Further downstream where the river met the Bay, it spread into a vast area of tidal marshland.
How has landuse in the watershed changed over time?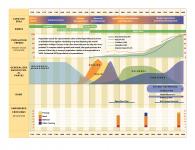 Land use in the Napa Valley has changed dramatically since the 1700s. Click on the thumbnail image to the left to open a full size version of the timeline.
Napa River Watershed Historical Ecology Project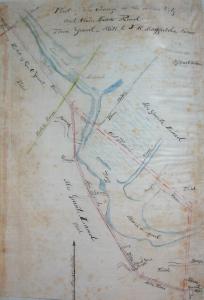 Click on the thumbnail image to the left to open a full size version of the map.
Researchers from the San Francisco Estuary Institute are assembling thousands of pieces of evidence about how the Napa River and Valley functioned prior to extensive Euro-american modification. This information will help us understand how the local landscape has changed through time and help develop strategies to improve its health in the future. The Napa Valley Historical Ecology Atlas is anticipated to be released in 2011.
Publications from the project include:
The Historical Ecology of Napa Valley: An Introduction
Streams, Wetlands, and Woodlands in Napa Valley: New Perspectives from Old Maps
Ecological, Geomorphic, and Land Use History of the Carneros Creek Watershed
Ecological, Geomorphic, and Land Use History of the Sulphur Creek Watershed
Text and images provided by the San Francisco Estuary Institute