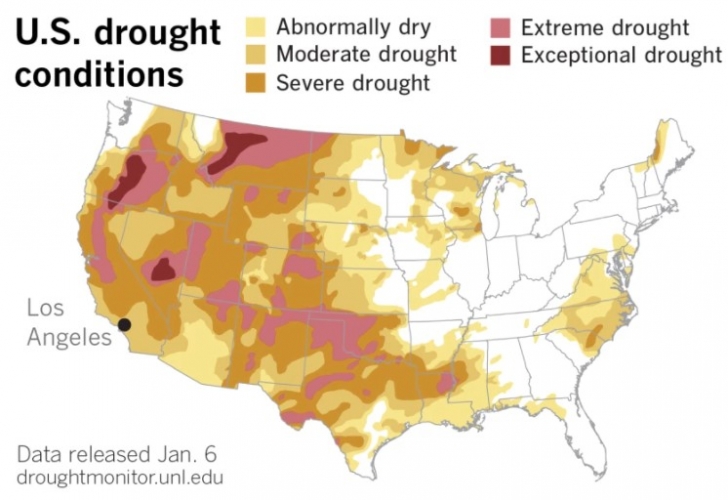 The latest U.S. Drought Monitor report, released Thursday, shows improvement after a wet December, but the West remains in drought.(Paul Duginski / Los Angeles Times)
California's recent rains won't end our stubborn drought. These charts show why
Jan 8, 2022 at 3:45pm
California just received more precipitation in the last three months of 2021 than it got in the previous year. The mountains are heaped with historic amounts of heavy snow. But the rain had no sooner given way to sun than state regulators issued new rules forbidding water-wasting practices such as hosing down sidewalks and driveways. What's going on?
The short version is that, although 33.9 trillion gallons of water have fallen on the state since Oct. 1, that's not enough to wash away our tenacious drought. Here are some graphics to help to tell the story.
The latest U.S. Drought Monitor report, released Thursday, shows continuing improvement across the West because of what it called heavy precipitation and generous snowpack in mountainous areas. But all of California still remains in some level of drought. And much of the state remains in the severe or extreme category.
Though many Southern California locations are near or above 200% of normal precipitation through December, said Jayme Laber, a hydrologist at the National Weather Service in Oxnard, main-stem rivers saw minimal flow, and reservoir and groundwater levels are still low.
Most of Southern California's bountiful precipitation last month was washed out to the Pacific, and most reservoirs in the region are low, Laber said. For example, Castaic Lake is about 45.6% full; Lake Piru is only 22.9% full; Lake Casitas is at 34.9%. Jameson Reservoir is the most flush, at 66.5%, but it is also one of the smallest reservoirs.
In Northern California, the key Northern Sierra 8-Station Index stood at 154% of average for Jan. 7, according to the California Department of Water Resources.
The index is the average of eight precipitation-measuring sites that provide a representative sample of the Northern Sierra's major watersheds. These watersheds include the Sacramento, Feather, Yuba and American rivers, which flow into some of California's biggest reservoirs, providing a large portion of the state's water supply.
The Northern Sierra 8-Station Index showed 31.2 inches on Friday, which, at this point in the water year, places it in the neighborhood of two of the wettest water years on record: 2016-17 and 1982-83.
Continue reading the article from the LA Times here.