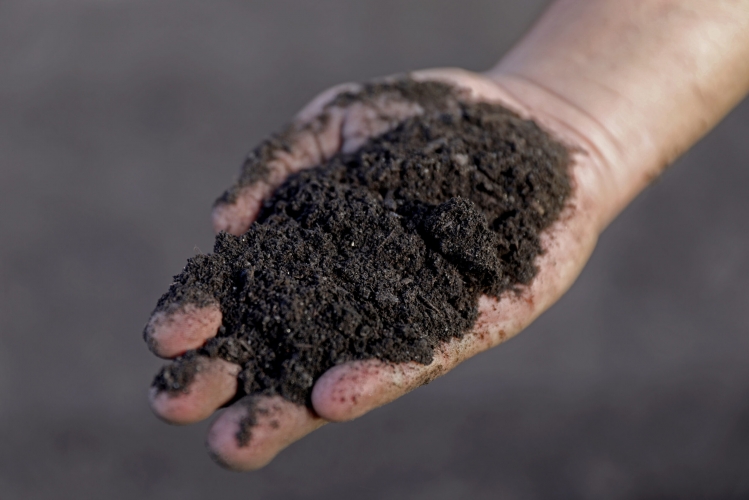 A handful of soil in Lamont, California. Credit: Gary Coronado / Los Angeles Times via Getty Images
Is a State Program to Foster Sustainable Farming Leaving Out Small-Scale Growers and Farmers of Color?
Jan 4, 2022 at 12:20pm
After a heavy rain, Steven Cardoza can walk through his 300 acres of organic raisin grapes near Fresno and emerge with clean boots. His soil soaks up water like a sponge, barely a mud puddle in sight—a sign of healthy soil, Cardoza said.
The third-generation farmer is committed to regenerative agriculture and two years ago, he eagerly applied for and received a grant from California's Healthy Soils Program to further practices like planting cover crops and composting.
Offered through the California Department of Food and Agriculture's Office of Environmental Farming and Innovation, the Healthy Soils Program is among a suite of programs that provide incentives for sustainable farming practices, and the HSP is the first state-led project to offer financial awards to adopt soil health as a way to reduce greenhouse gases and increase carbon sinks. Jeanne Merrill, policy director for the California Climate and Agriculture Network, calls it, "groundbreaking."
But Cardoza has since become disillusioned with the program, also known by its acronym, HSP.
"It's modeled after large-scale, monoculture agriculture," said Cardoza. He added that the program is "massively disadvantageous" to small-scale farmers with diversified operations, as well as to those who can't speak English fluently, while big, well-resourced operations can easily take advantage of it.
Cardoza is among many sustainable agriculture advocates who say that barriers in the program must be addressed.
"It's the law," said Ruth Dahlquist-Willard, a small farms advisor with the University of California Cooperative Extension in Fresno.
The Farmer Equity Act, passed in 2017 requires the California Department of Food and Agriculture, the department that administers the healthy soils program, to ensure the inclusion of farmers and ranchers who have been subjected to racial, ethnic or gender discrimination, including African Americans, Hispanics, Asian Americans and women, when developing programs or policies. The bill categorizes this group as "socially disadvantaged."
About 37 percent of California farmers are women, and 19 percent of the state's farm operators are farmers of color, but that percentage may be undercounted, according to the California Climate and Agriculture Network (CalCAN.)
While the state agriculture department reserves 25 percent of its funds for socially disadvantaged farmers, and last year awarded 27 percent of its grants to this group, many advocates familiar with the soil health program said it needs to better prioritize this population. A recent CalCAN analysis found another climate smart agriculture program had distributed 42 percent of their funds to the historically underserved population.
A first-come, first-serve award system may be partly to blame, as larger operations with office staff or money to hire a grant writer have been able to secure money more quickly. "Those farmers who have fewer resources, and often those were farmers of color, got in their applications later. But the money was already gone," said CalCAN's Merrill.
For the first four years, the program was primarily funded by money generated from the auction of greenhouse gas emission allowances in the state's cap-and-trade program. But this proved an unsteady source of income and this year, California dedicated general fund dollars to the program.
Continue reading the article from Inside Climate News here.