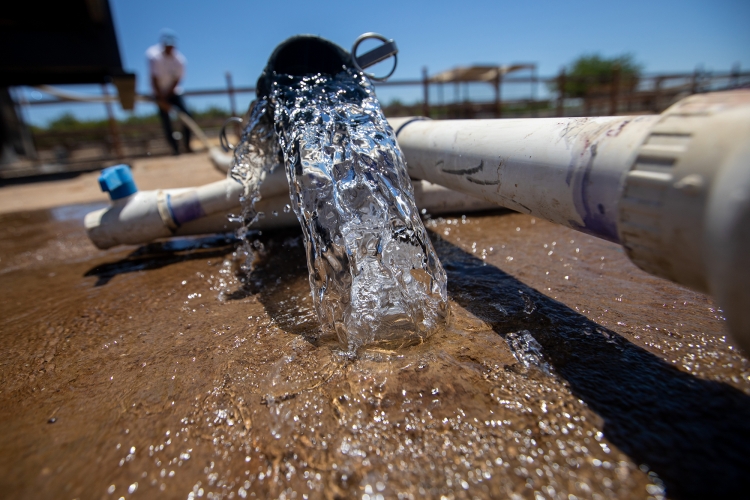 Water pours from a pipe before being connected to a water tank near Madera on June 10, 2021. Photo by Shae Hammond for CalMatters
Four San Joaquin Valley groundwater plans deemed inadequate
Nov 18, 2021 at 4:25pm
Lea este artículo en español.
The state's water agency today lambasted groundwater plans drafted by some of California's largest and most powerful agricultural water suppliers in the San Joaquin Valley, indicating that they fail to protect drinking water supplies from over-pumping.
The four large groundwater basins at stake underlie stretches of San Joaquin, Merced, Madera and Fresno counties that are home to nearly 800,000 people and more than a million acres of irrigated agriculture.
The letters sent by the state Department of Water Resources to the local districts that manage the basins have a common theme: a failure to address how pumping, largely for growers, will harm the drinking water supplies of local communities. "That, in some plans, missed the mark," said Paul Gosselin, deputy director of sustainable groundwater management at the California Department of Water Resources.
"As we sit here in this drought, the need and the promise to make sustainable groundwater management fulfill its mission and promise couldn't be more important," Gosselin said.
One of the districts with a plan criticized by the state is the powerful Westlands Water District, the largest agricultural water agency in the nation. It provides water to more than 1,000 square miles of prime farmland in western Fresno and Kings Counties.
A main threat in the San Joaquin Valley's Westside subbasin, managed by the Westlands Water District, is subsidence: the risk that land could continue to sink when groundwater is pumped.
In a 17-page letter to the Westlands district, state officials raised concerns about more subsidence in parts of the basin where the plan would allow groundwater to sink from 40 to more than 100 feet below 2015 levels. In addition, Gosselin said the plan doesn't explain how ongoing water quality problems could affect communities.
Shelley Cartwright, a spokesperson for Westlands, said the water district looks forward to reviewing the department's preliminary findings. She said the plan "ensures groundwater levels stay at or above 2015 levels" and "avoids undesirable results and ensures the beneficial users of groundwater, such as local communities, are not harmed."
Groundwater is the primary source of drinking water for most of the state's more than 7,400 public water systems, and 6 million people depend on it entirely. The biggest user is agriculture, which taps into about 80% of the groundwater pumped in the state.
It's a finite resource overdrawn by about 2.5 million acre-feet per year. And supplies are strained even further in dry times.
Continue reading the article from CalMatters here.