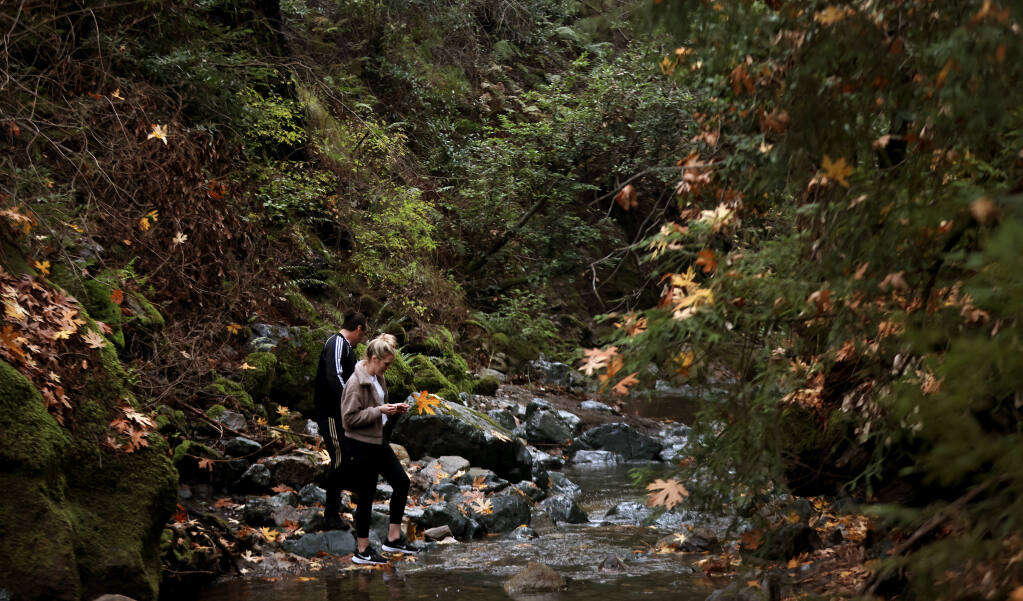 A couple enjoy Sonoma Creek where Chinook salmon have returned, Saturday, Nov. 13, 2021 at Sugarloaf Ridge State Park, thanks to October's atmospheric river that invigorated stream flows. (Kent Porter / The Press Democrat) 2021
As California drought clouds future, Chinook salmon return to Sonoma Creek to spawn
Nov 15, 2021 at 4:00pm
Chinook salmon are back, baby!
After a rush of cold-running water brought by the atmospheric river in late October, Sonoma Creek, along with other streams across the Bay Area, saw a surge in flow giving Chinook, or king salmon, the perfect conditions to make their way upstream from the Pacific.
The adult fish are now making their way from San Pablo Bay, swimming up Sonoma Creek to prepare their nests and spawn a new generation of offspring in the water that gushes down from Sugarloaf Ridge State Park high above Sonoma Valley.
They are travelers on a long and tenuous journey to spawn and die in the rivers and creeks where they were born ― all so their young can return back to the ocean and begin the cycle again.
A threatened species, the Chinook are fighting to hang on in Northern California and across the Pacific Northwest amid intense weather swings and worsening climate conditions, including severe drought.
For those adults who reach the headwaters of the Sonoma Creek watershed, they could be leaving their young to survive in shrinking pools as conditions dry out later next year, according to Ryan Watanabe, district fisheries biologist for the California Department of Fish and Wildlife.
"From a Chinook salmon perspective, maybe getting up there wasn't necessarily the best," Watanabe said. "It might have been better if they stayed lower in the system where there's plenty of gravel and habitat and it's just a little wider and deeper."
On the other hand, if they stayed in lower tributaries, people hiking through Sugarloaf wouldn't get the chance to see them or learn about the prized ocean-going fish and their fragile stake in the local watershed, Watanabe said.
The creek ecosystem also benefits from the nutrients that wouldn't otherwise be there when the adult fish die after spawning.
Continue reading the article from The Press Democrat here.