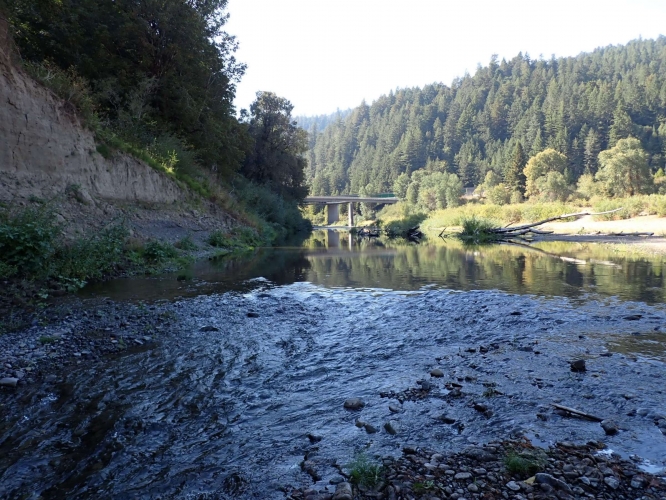 The South Fork Eel River flowing on Sept. 24 in Dyerville, Calif. Eel River Recovery Project
'This is Historic': For at Least a Week, California's Eel River Stopped Flowing
Oct 5, 2021 at 2:10pm
Fisheries biologist Pat Higgins said he was shocked when he discovered on Sept. 17 a section of the largest tributary in California's third-largest watershed was dry.
Higgins explained there was no water flowing above ground in the section of the South Fork Eel River where it meets the main stem in Dyerville below Highway 101 in Humboldt County. The riverbed was exposed and the water just stopped, ending in a still pool. The south fork and the main stem were no longer connected. He believes this is unprecedented based on his observations going back to 1995 and historic data from the U.S. Geological Survey's gauges measuring river flow.
"When I was standing there, I thought, 'This is historic,'" said Higgins, managing director of the Eel River Recovery Project. "I hope it's the worst I ever see."
Luckily, a week after his observation, Higgins was astounded and relieved when he saw the South Fork was flowing after a cold front delivered a couple inches of rain to the farthest reaches of Northern California. He believes the river was dry for more than a week based on USGS data.
California's rivers have struggled throughout modern-day history with increasing demands from urban and agriculture water users in the state's climate marked by periods of natural drought. But the South Fork running dry may be a symbol of a new extreme, signaling escalating environmental neglect, increased agricultural demands, changing weather patterns and droughts that are more extreme than they were in the past. It's an example of what unfolds when the balance of Mother Nature is disrupted. Scientists are trying to understand the threats to this unique river with a future that's clouded by climate change.
Continue reading the article from SFGate here.