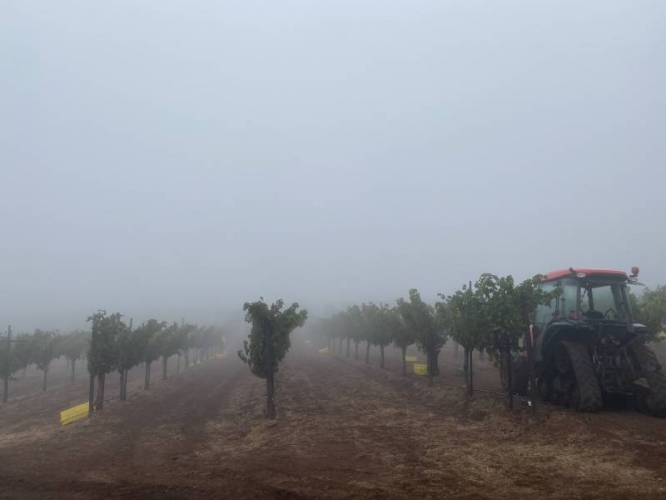 Eighty percent of the vines at Hamel Family Wines have not received any irrigation this year. That number has grown from 20% in 2017. (Ezra David Romero/KQED)
Facing Drought, Wildfires, Scorching Heat, Bay Area Wineries Are Changing How They Grow Grapes
Sep 30, 2021 at 1:00pm
On a foggy September morning farmworkers harvest plump, dark purple grapes at Hamel Family Wines in Sonoma County. But winemaker John Hamel II recognizes these Cabernet Sauvignon grapes are very different from others grown in Sonoma and Napa counties. The green vines are flourishing mostly without direct watering.
"These vines haven't received a drop of water since 2017," he said.
Hamel stopped watering 80% of his vines after realizing that's what some growers do in places like France. The method is called dry farming, and uses little to no water to irrigate vineyards. The result is grapes with thicker skins and tastier wine, says Hamel.
"This season will be slightly lower in yield, but we actually feel like this has potential to be a very good vintage," he said of this year's harvest.
California is in a second year of drought and for many North Bay grape growers, the hot, dry conditions mean lost crops. In 2020 some growers lost 20% or more of their crops because of dry conditions, fires, or smoke tainting the flavor of their grapes.
As the climate warms, winemakers and grape growers are changing the direction they grow vines, picking earlier, covering crops with shade cloth, and adapting in other ways. Others have invested in solar panels, electric vehicles, and climate action plans. Some, like Hamel, have shifted to dry farming and are using a lot less water or none at all. At least one Bay Area winery is using "sunscreen" on grape leaves to protect harvests from excessive heat.
Continue reading the article from KQED here.