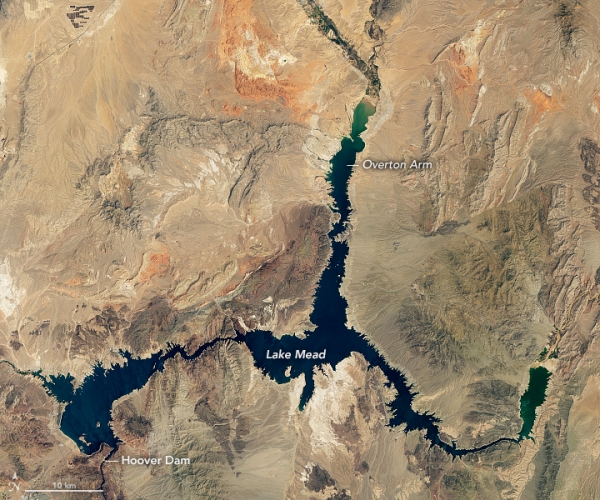 As of August 22, 2021, Lake Mead was filled to just 35% of its capacity. Lake Mead is the largest reservoir in the United States and part of a system that supplies water to at least 40 million people across seven states and northern Mexico. In the 2022 water year, NASA said, it's likely less water will be portioned out to some states. The low water level comes as 95% of land in 9 Western states is affected by some level of drought. It continues a 22-year megadrought that may be the region's worst dry spell in 12 centuries.
NASA Drought Research: Glimpsing The Future
Sep 12, 2021 at 3:45pm
NASA said on September 8, 2021, that – according to NOAA – seasonal summer rains have done little to offset drought conditions gripping the western United States. California and Nevada both saw record July heat and moderate-to-exceptional drought. New NASA research now shows how drought in the region is expected to change in the future. The study found that the western U.S. is headed for prolonged drought conditions. That's the case, according to this study, whether greenhouse gas emissions continue to climb or are aggressively reined in.
But the study also showed that the severity of acute, extreme drought events – and the overall severity of prolonged drought conditions – could be reduced with emissions-curbing efforts, as compared with a high-emissions future. This is important information for decision-makers considering two tools to reduce climate impacts: adaptation and mitigation. NASA said the new work will:
… provide stakeholders with crucial information for decision-making.
Scientists at NASA's Goddard Institute for Space Studies (GISS) led the new study. It is published in the peer-reviewed journal Earth's Future.
Continue reading the article from EarthSky here.