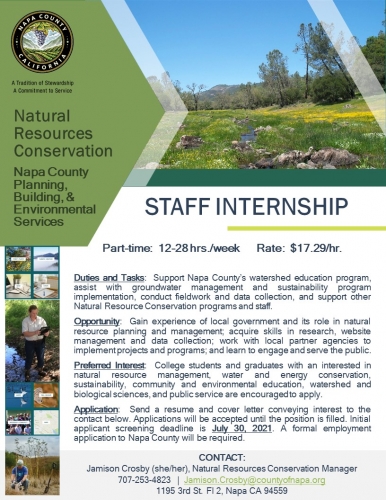 Flyer for the Staff Internship There is a green meadow with trees on the top right and pictures of interns and people volunteering going down the left side.
Natural Resources Internship Opportunity with Napa County!
Jun 25, 2021 at 10:00am
Are you interested in local water resources? Apply Now to be a Staff Intern with Napa County's Natural Resources Division! This application is open until Friday, July 30, 2021 to support Napa County's watershed education program, assist with groundwater management and sustainability program implementation, conduct fieldwork and data collection, and support other Natural Resource Conservation programs and staff.
Opportunity: Gain experience with local government and its role in natural resource planning and management; acquire skills in research, website management and data collection; collaborate with local partner agencies to implement projects and programs; and learn to engage and serve the public.
Preferred Interest: College students and graduates with an interest in natural resource management, water and energy conservation, sustainability, community and environmental education, watershed and biological sciences, and public service are encouraged to apply.
Application: Send a resume, writing sample, and cover letter conveying interest to the contact below. Applications will be accepted until the position is filled. Initial applicant screening deadline is July 16, 2021. A formal employment application to Napa County will be required.
Contact:
Jamison Crosby (she/her)
Natural Resources Manager
Jamison.Crosby@countyofnapa.org
707-253-4823