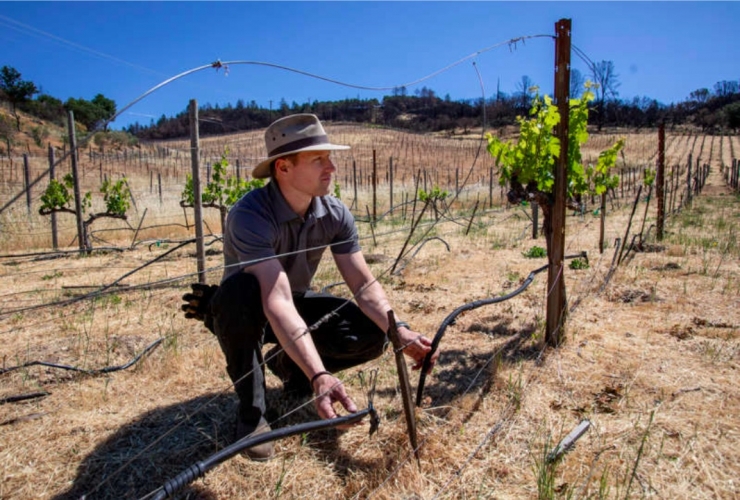 © Provided by Mercury News DEER PARK, CA - May 20: In a vineyard of cabernet sauvignon lost in last year's Glass Fire, Alan Viader prepares for replanting, Thursday, May 20, 2021, at Viader Vineyards and Winery in Deer Park, Calif. (Karl Mondon/Bay Area News Group)
Northern California Winemakers Embrace Fire Fighting in Early Wildfire Season
May 27, 2021 at 8:00am
This month, Alan Viader, director of operations and winemaking at Viader Vineyards & Winery in Napa Valley, took a significant step in his career. He didn't obtain a PhD or earn the coveted title Master of Wine. In a haunting sign of the times, Viader graduated from CalFire's rigorous six-month fire academy, equipped and certified for a 2021 fire season that has already started.
Now, he says, he knows what to look for and how to protect his Howell Mountain property, which was damaged in the 2017 Atlas Peak fire.
"I'll never forget it. It was like a hurricane but with embers instead of rain," recalls Viader, who helped evacuate residents as part of the Napa County Sheriff's volunteer search and rescue team.
He isn't alone. Following the wildfires that have ravaged wine country every year since, wine professionals in Napa and Sonoma are learning how to prevent and fight fires by acquiring not only training, but their own equipment, including fire trucks. They've even tried to rent single-engine, water-scooping Fire Boss planes to snuff a blaze as soon as it starts.