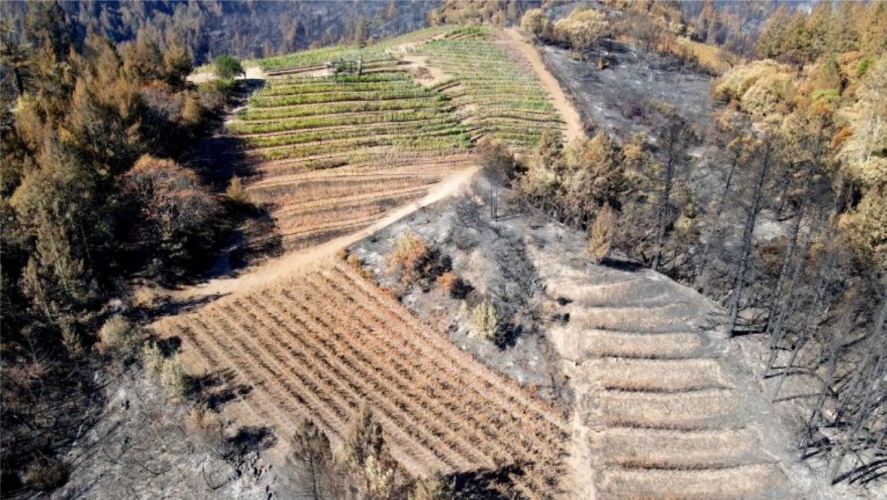 Aerial view of Newton Vineyards following fire damage. Photo courtesy of Newton Vineyard.
The Complex Science of Assessing California's Fire-Damaged Vines
Apr 26, 2021 at 8:00am
At the start of the 2021 growing season, California's vintners are once again bracing for another potentially difficult year: Drought emergencies have already been declared in Sonoma and Mendocino counties.
But for many northern California vintners, the exact toll of the 2020 fire events—including the LNU Lightning Complex fires, which began on August 17, and the Glass Fire, which began on September 27—remains uncertain. While many blackened vineyards were immediately written off, many more remain in flux—and could for several years. SevenFifty Daily spoke with viticulturists, winemakers, and researchers about how they are approaching the complicated nature of finding salvageable vines in premier vineyard sites.
The Fine Line Between Replanting or Revitalizing
Mark Greenspan, a viticulturist and president of Advanced Viticulture Inc., says the majority of vine damage from fire events is due to excessive heat. The most impacted vines are those within proximity to inflamed forestry and leaf-litter which radiate high levels of heat into neighboring vineyards.
Flames brought in by under-vine cover crop, weeds, or other vegetation scorch vine trunks, affecting the internal vine tissue—namely the cambium, the tissue responsible for replenishing the vascular cells that transport water and nutrients from the root system through the vine. Soot and scorch marks at the base of the trunk are the most telling signs that internal tissue is affected.