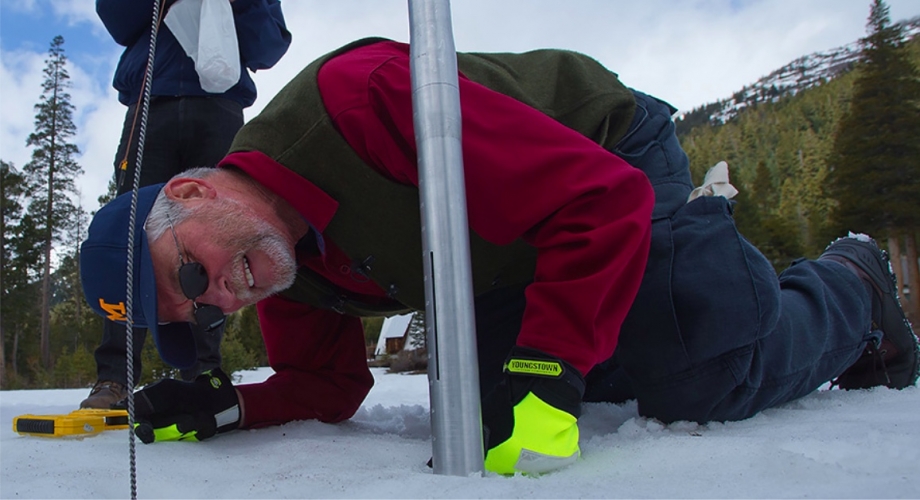 Frank Gehrke takes snow samples at Phillips Station in El Dorado County, Calif., on March 28, 2013. The last Sierra snow survey of the season is the most important to determine water supplies for the rest of the year. Randall Benton/ZUMA Press/Newscom
Megadrought: 'Climate Change Starting to Hammer Home'
Apr 7, 2021 at 9:45pm
California is heading for a "critically dry year" as drought spreads across the American West, creating a slow-moving crisis for the Biden administration and state officials.
The Golden State's annual survey of Sierra Nevada snowpack, upon which it relies for as much as a third of its water, was only 59% of normal, officials warned last week, underscoring that the state didn't get the "March miracle" of rain and snow it had hoped for.
Climate change is affecting water patterns across the West, water managers said, including a prolonged "mega" drought and more precipitation falling as rain instead of snow. And much of that snow melts more quickly.
"This is a big issue," said Jeff Kightlinger, the general manager of the Metropolitan Water District of Southern California, the country's largest wholesale water provider. "This is really climate change starting to hammer home, and we're starting to see it."
California's Department of Water Resources (DWR) said the state is "better prepared" than the last time it faced a severe drought, from 2012 to 2016, because of new management strategies. But its reservoirs are only about half full now.
"State agencies, water suppliers and Californians are more prepared than ever to adapt to dry conditions and meet the challenges that may be ahead," DWR Director Karla Nemeth said.
The forecasts have already affected water deliveries and are raising the specters of mandatory curtailments and fallowed cropland. And the dry conditions set the stage for a potentially dangerous wildfire season this year.
The agencies that manage the two complex systems of dams, canals and aqueducts that shuttle California's water from its wet North to cities and farms in its drier South have both taken unusual steps to reduce the amount of water they expect to deliver this year.