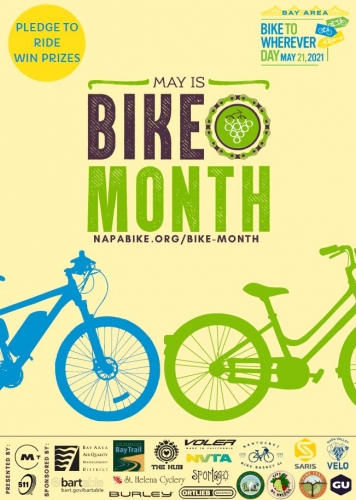 Photo of a flyer promoting bike month and raffles with a list of sponsors and partners at the bottom.
Bike to Wherever Day
May 21, 2021 at 3:10pm
Why celebrate Bike Month?
Biking is great for your physical and mental health

Physical activity is crucial for our health – according to the Office of Disease Prevention and Health Promotion, kids ages 6 through 17 should do 60 minutes or more of moderate-to-vigorous physical activity daily. Adults should do at least 150 minutes to 300 minutes of moderate-intensity aerobic activity a week.

However, according to the CDC's most recent data (2019), only about 55% of California adults are achieving the weekly minimum of 150 minutes of aerobic physical activity. Only about 20% of students in grades 9-12 achieve their 60 minutes of physical activity daily.
Biking is listed by the ODPHP as a moderate-to-vigorous aerobic activity for kids and adults and can help them achieve the recommended physical activity level. Biking for transportation (work, school, errands, etc.) is an easy and fun way to build this exercise into everyday life.

Pre-Covid, data collected by the U.S. National Health and Nutrition Examination Survey determined that children and adults spend approximately 7.7 hours per day being sedentary (ODPHP). Now during the times of Covid, when so much of daily life has become virtual, that time has likely increased.
Improved cardiovascular fitness, increased muscle strength, and decreased stress levels are just a few of the several health benefits provided by biking.

Switching just some of your short trips from driving to biking can save you money by reducing costs related to gas, maintenance, depreciation, and, if you're really dedicated, gym memberships and auto insurance.
Biking is a zero-pollution form of transportation.

The transportation sector is the largest single source of California's greenhouse gas emissions at nearly 40% of the state's total emissions. Almost 90% of transportation emissions in California derived from on road sources.
"Emissions from cycling can be more than 30 times lower for each trip than driving a fossil fuel car, and about ten times lower than driving an electric one."
31% of vehicle trips in Napa County are less than 2 miles, and 63% are less than 5 miles – which are within reasonable biking distance. If Napa County residents shifted just some of their short trips to biking, we would make noticeable progress toward meeting environmental goals and cleaner air.

Business benefits
School benefits
Biking is fun! Who couldn't use a little extra fun these days?