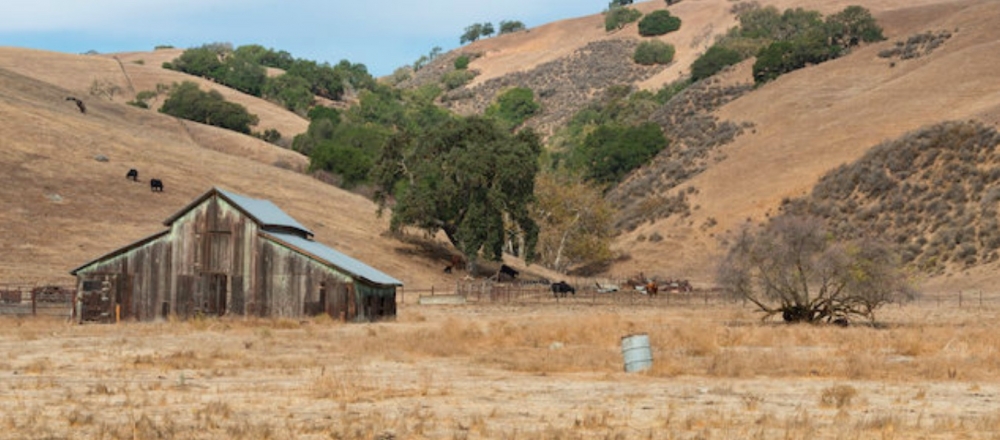 A dry field and barn off of Highway 152 in California's Pacheco Pass. (Photo: Hank Shiffman, via Shutterstock)
California's Latest Drought is Already Here
Mar 31, 2021 at 8:00am
As if the COVID-19 epidemic, economic malaise, disrupted schooling and wildfires weren't enough, California now finds itself heading for a drought. A big drought.
In fact, the U.S. Drought Monitor says that 91 percent of the state is in a drought right now.
Reservoir and groundwater levels are significantly below average, and despite recent storms, the snowpack was only 63 percent of average as of March 10. The state's next snow survey — the critical indicator of spring runoff — at Echo Summit in the Sierra Nevada is unlikely to show improvements.
"We are now facing the reality that it will be a second dry year for California and that is having a significant impact on our water supply." — Karla Nemeth.
The State Water Resources Control Board mailed early warning notices to some 40,000 water right holders, urging them to plan for potential shortages by reducing water use and adopting conservation measures.
Climate change is making droughts – and, ironically, floods — more common in California and across the West. In January, the Public Policy Institute of California declared:
"California's climate is warming and becoming more variable. Rising temperatures are making droughts more intense, and dry years are occurring more frequently. At the same time, winter storms are becoming warmer— with less snow and more rain—leading to larger floods."