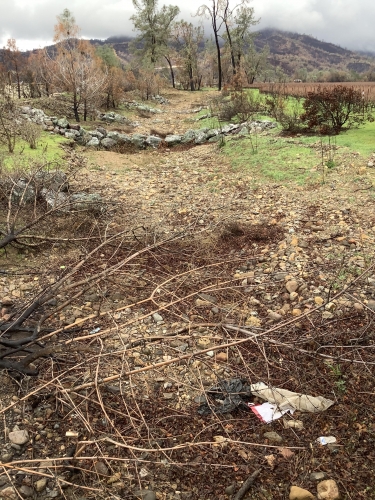 Litter in Selby Creek on Larkmead Lane
Napa RCD has Clean up Kits Available for Individual Cleanups
Feb 18, 2021 at 8:30am
We can't yet gather in groups, but our waterways need your help!
The Napa River is a wonderful resource for our entire county, but it takes work to keep it clean. Even with less visitors this year, trash still finds its way onto our streets and into our creeks and streams. YOU can help keep the Napa River clean by requesting cleanup materials to run your own household volunteer cleanup!
If you're interested in loaning out trash grabbers and buckets, please email Ashley@NapaRCD.org and she will coordinate a socially distanced pickup and dropoff of whatever materials you need!
DURING YOUR CLEANUP
Napa County has 20 years of cleanup data, tracking pounds of trash and recycling and also tracking what the most commonly found items are throughout the history of local cleanups. Help us keep up that record!
Download the CleanSwell app and enter what you find when you are out and about picking up trash in your neighborhood or local park. This data helps us provide insight when legislation is proposed, like the plastic bag ban.
Help Keep Napa Clean by requesting a loaner cleanup kit!
Email or call Ashley today!
(707) 690-3117