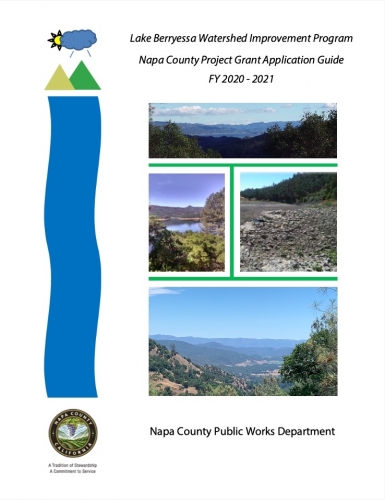 Applications for Measure A Projects in the Lake Berryessa Watershed are Due April 9
Feb 17, 2021 at 9:25am
Napa County is pleased to announce a second funding cycle for Measure A projects within the Lake Berryessa watershed area. Fire devastation to the wildland urban interface surrounding the multi-purpose water body and its tributaries is unprecedented in modern era. Measures to protect the resource are paramount in this time of vulnerability. Local Sponsors are encouraged to file an Application with County Public Works Department by the closure date stated in attached Program Guidelines. Specifics regarding project scope eligibility under Measure A Ordinance, selection criteria and timeline to award of funding agreements are described within the packet. Applications are due April 9, 2021. See the linked .pdf at the bottom of the page for the application guide.
Program Overview
In August 1999, Napa County Flood Protection and Watershed Improvement Authority and County Public Works Department entered into an Agreement to disburse the revenue collected by Napa Flood Protection Sales Tax more commonly known as Measure A Ordinance for approved flood control and watershed improvement projects that would benefit developed urban regions and rural unincorporated areas of Napa County. Passage of Measure A Ordinance was to create a project funding mechanism that would protect Napa County citizens and property from damaging flood inundation up to and including the 100- year hydrologic storm event coupled with watershed improvement and water supply reliability.
Eligibility
Entities qualified to apply for a Lake Berryessa Watershed Grant include Public Agencies, NonProfit Organizations, Consultants, Contractors registered with CA Department of Industrial relations (DIR), Academic Centers and federally acknowledged Tribes.
Eligible projects must be capable of offering one or more watershed improvement benefit(s) to Lake Berryessa and/or tributaries within the Putah Creek / Suisun Creek watershed boundaries. Watershed improvement benefit examples include:
Agricultural watershed improvements
Storm water runoff management
Invasive species control
Natural wetland buffer creation
Water quality restoration
Watershed protection activities
Questions? Call or email:
Christopher M. Silke P.E.
Engineering Manager – Water Resources, County of Napa Flood Control and Water Conservation District
Christopher.Silke@countyofnapa.org
(707) 299 – 1755