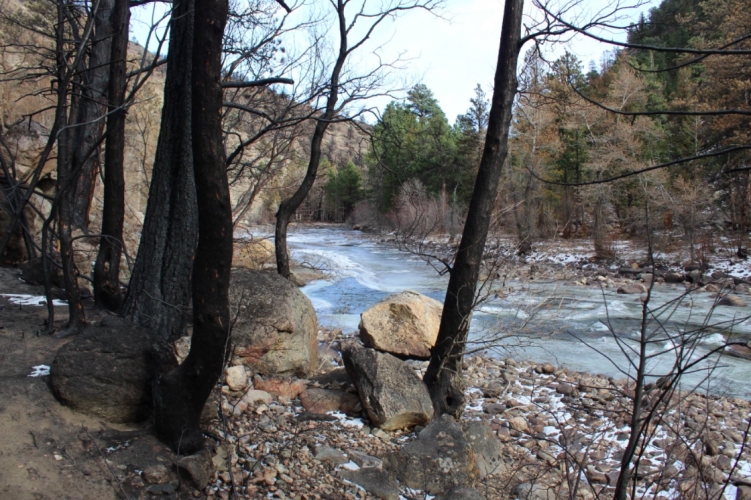 Charred trees line the Poudre River in the Cameron Peak burn scar. Luke Runyon, KUNC
When Wildfire Burns A High Mountain Forest, What Happens To The Snow?
Jan 4, 2021 at 4:00am
Record-breaking wildfires in 2020 turned huge swaths of Western forests into barren burn scars. Those forests store winter snowpack that millions of people rely on for drinking and irrigation water. But with such large and wide-reaching fires, the science on the short-term and long-term effects to the region's water supplies isn't well understood.
To understand, and possibly predict what happens after a river's headwaters goes up in flames, researchers are descending on newly created burn scars across the West to gather data in the hopes of lessening some of the impacts on drinking water systems.
On a sunny winter morning, a team of researchers led by Colorado State University hydrologist Stephanie Kampf roamed through the steep drainage of Tunnel Creek, a tributary to the Poudre River. Much of the creek burned this summer and fall during the Cameron Peak Fire west of Fort Collins, Colorado.
Exploring a burn scar is like running an obstacle course. There are downed trees to climb over, duck under, and get tripped by. There are the trees that are entirely burned out, leaving gaping holes in the ground. Rubbing up against any charred bit of debris leaves clothes smeared with black smudges, like the forest is trying to turn each person who enters into a living charcoal sketch.
High up in the creek's drainage, near a frozen waterfall, Kampf paused ankle-deep in a burned out tree well.
"Wow, there's so much ash there," Kampf said. "That is so much ash!"
Even the tree's roots are gone.
For more than an hour and a half, Kampf's team searched for a flat spot to construct a temporary weather station. The university received a National Science Foundation grant to put instruments into the field quickly, before snows began to accumulate in the burned area. At more than 208,000 acres, the burn scar is the state's largest on record.