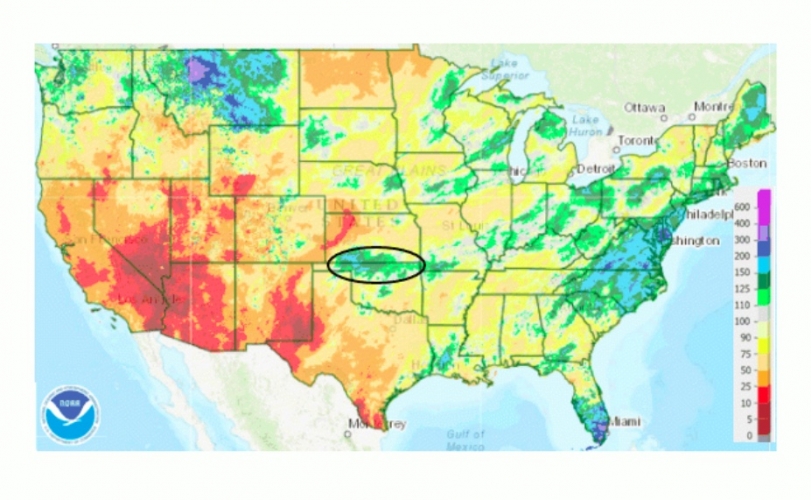 The Water Year So Far
Jan 4, 2021 at 1:25pm
We may just be at the beginning of the year on the calendar system that most of the world uses (the Gregorian calendar), but the "water year" is already three months old. The water year is a term that the U.S. Geological Survey (USGS) uses in reports that deal with surface water supply. It is defined as the 12-month period beginning Oct. 1 of any given year and running through Sept. 30 of the following year. The water year is designated by the calendar year in which it ends and which includes nine of the 12 months. Thus, we are in the "2021" water year, because the 12-month period starting last Oct. 1 will end Sept. 30, 2021.
The concept of water year is useful because its boundaries effectively cover an entire year's worth of vegetative activity -- dormancy typically starting Oct. 1, and then all the way through when much vegetation is either through its annual life cycle or has frozen off for the year. The water year idea is also useful in analyzing how precipitation is acting to influence surface water and water table content; and, it's another way of getting an idea on drought development.
Since Oct. 1, there are two notable areas in the contiguous U.S. where the precipitation totals have been above- to much-above-normal and an inference may be made about an effective addition to the water table supply. One of these areas is in the state of Montana. Here, October-through-December precipitation was more than double the normal amount in some locales. Another notable area for robust precipitation relative to normal is in the Mid-Atlantic coast area of Virginia and North Carolina. In these two states, precipitation totals since Oct. 1 have been around 50% above normal. This total also indicates a net addition to the water table.
On the other hand, the western Midwest (west of the Mississippi River) and most of the Plains have precipitation totals so far this water year that are running some 50% or more below normal, a sign that dryness issues are likely to intensify. There is an exception in a stripe from southern Kansas through northern Oklahoma where precipitation has been from 25 to 50% above normal, thus indicating some easing of drought. But over western and northwestern Kansas, that same three-month period saw precipitation totals that were from 50 to 90% below normal. The eastern half of Colorado, central and southern Oklahoma, and the Texas Panhandle through northern Texas were generally in the 50%-below-normal bracket. Conditions were even drier from west Texas to California at 90 to 95% below normal.
So, the 2021 water year is off to a slow start in a large portion of the Western Corn Belt along with the majority of hard red winter wheat production areas.