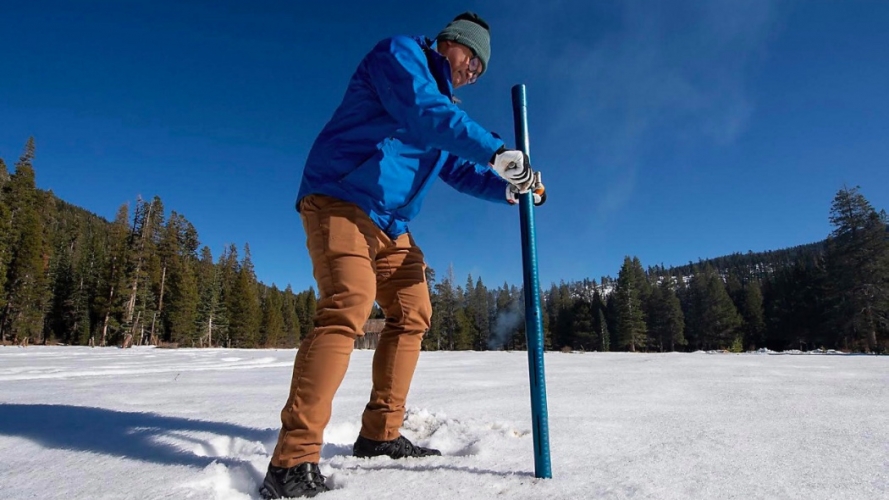 The California Department of Water Resources conducted its first snow survey of the season in South Lake Tahoe Wednesday. (Courtesy California Dept. of Water Resources)
California's First Snow Survey of Season is 93% of Average
Dec 30, 2020 at 5:25pm
SOUTH LAKE TAHOE, Calif. — The snowpack is 93% of average to date, according to the first snow survey of the season conducted by the California Department of Water Resources.
Completed Wednesday at Phillips Station in South Lake Tahoe, the measurement is one of more than 260 snow courses in the Sierra Nevada region the department measures each winter and early spring to determine how much water will melt and run off to state reservoirs in the warmer months.
"Today's survey is a little higher than what we've been seeing based on automated snow measurement based on 130 sensors statewide," said Sean de Guzman, chief of snow surveys and water supply forecasting for the Department of Water Resources, during a Facebook Live webcast from the mountain Wednesday morning. Those automated sensors are reporting 52% of average.
The snow's water content, or the amount of liquid water contained in the snow if it were to melt, "is the critical number we're looking for as water managers," he added. Wednesday's measurement showed a snow depth of 30.5 inches and a snow water content of 10.5 inches.
The department uses that data to predict the spring and summer runoff that determines its water supply forecast for the coming year. About one-third of the state's water supply comes from snowpack runoff.
This year's fall season was extremely dry in the Sierra Nevadas with one of the driest October-to-November periods on record, de Guzman explained. "The extremely dry fall has only exacerbated what's been an unprecedented wildfire season."
What You Need To Know
The California Department of Water Resources conducted its first snow survey of the season Wednesday
The snowpack at Phillips Station in South Lake Tahoe is 93% of average to date
The department measures snow levels at 260 locations in the Sierra Nevada region each winter and early spring
This year's wildfires in Northern California are altering the snowpack