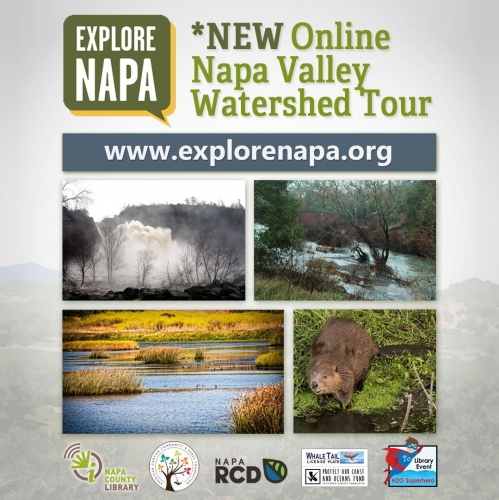 Explore Napa Valley Watershed Features Tour: Oh the Places You'll Flow
Nov 9, 2020 at 8:00am
Explore Napa: Online Napa Valley Watershed Tour
Beginning October, 30th, the community, including local educators, are invited to view the Napa Library's new Watershed Tour on the Explore Napa webpage. Developed with educational standards in mind, this newly added tour delivers expert information along with captivating video clips, photos, library resources, and an interactive map denoting the locations of the various watersheds within Napa County. Some of the watershed topics available online include Beavers, Owls and Bats, The EcoReserve, The Napa River and Headwaters, The wetlands, Oak Restoration, and the Salmon Rotary Screw Trap. Multiple organizations throughout the Napa Valley have contributed to this newly developed online tour. The Napa County Library proudly curates the Explore Napa project.
The online Watershed Tour is made possible through California Coastal
Commission's Whale Tail Grant. The Napa County Library received the Whale Tail Grant in April of 2019. The grant provided the opportunity for the library to launch their H2O Superhero program where all ages of our community continue to be invited to learn, serve and protect the local Napa County waterways. As a result, the library has been offering enriching library programs, engaging books and activities all of which focus on waterway conservation and stewardship. The newly developed online tour will provide an ongoing resource for the community to enjoy and learn about the interconnectedness of our watersheds and ocean for years to come. The Napa County Library collaborated with the Napa Resource Conservation District (RCD), The City of Napa Water Resource Division and the American Canyon Community & Parks Foundation.
For more information, please call the Children's Desk at the Napa Main Library at (707) 253-4070.