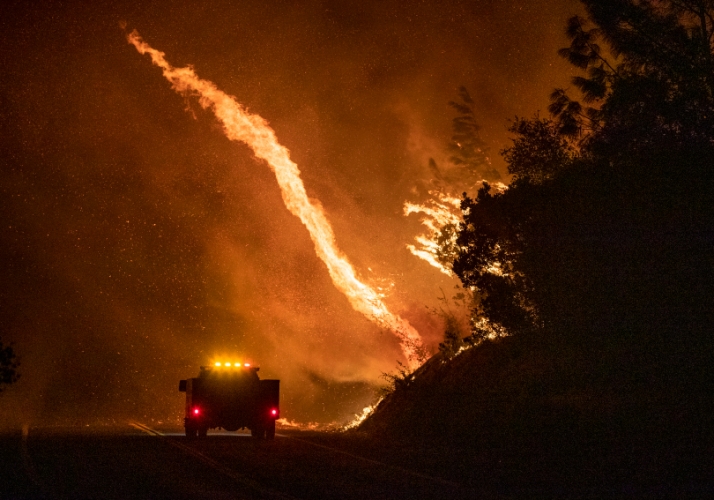 California fires: Five reasons why this year is so bad
Sep 9, 2020 at 6:30am
So far, 2.3 million acres have burned, surpassing old record with two months left in fire season
For months, California's attention has been rightfully fixed on coronavirus, the worst pandemic in a century. But 2020 is becoming an epic year for wildfires in California, as the state continues to burn and the records continue to fall.
Three of the four largest fires in California history are all burning at the same time now. On Tuesday, 2.3 million acres already had burned this year statewide — an area more than 20 times larger than the city of San Jose — and the most in any year since modern records began, with two months still remaining in fire season.
What's driving our record fire year? A combination of heat, freak lighting, drought and overgrown forests, experts say.
A record heat wave tested the state's electricity grid with near blackouts in recent days. Dry, dangerously windy conditions led PG&E Tuesday to preemptively shut off 172,000 customers in 22 counties in the North Bay and Sierra Nevada until Wednesday to reduce the risk of downed power lines sparking more fires.
"This is a challenging year," said Gov. Gavin Newsom on Tuesday. "It is historic in terms of magnitude, scope and consequence."
The good news was that Tuesday afternoon, the trio of massive fires in the greater Bay Area that began three weeks ago during lightning storms was finally near containment. The CZU, SCU and LNU Lightning Complex fires were all more than 80% contained.
But in the Sierra, the Creek Fire roared across forests in the mountains east of Fresno, having burned 143,929 acres with 0% containment, and prompting the National Guard to rescue more than 200 people in daring nighttime helicopter missions. The Dolan Fire in Big Sur nearly doubled in size between Monday and Tuesday, charring more than 73,000 acres. And the August Complex Fire continued to grow in the Mendocino National Forest, reaching a staggering 356,312 acres while only being 24% contained.
Fire experts say it's not one thing causing the shocking series of infernos. "It's a perfect storm of factors that have all come together," said Jon Keeley, a research scientist with the U.S. Geological Survey at Sequoia National Park.
Read the full article to learn about the main factors.