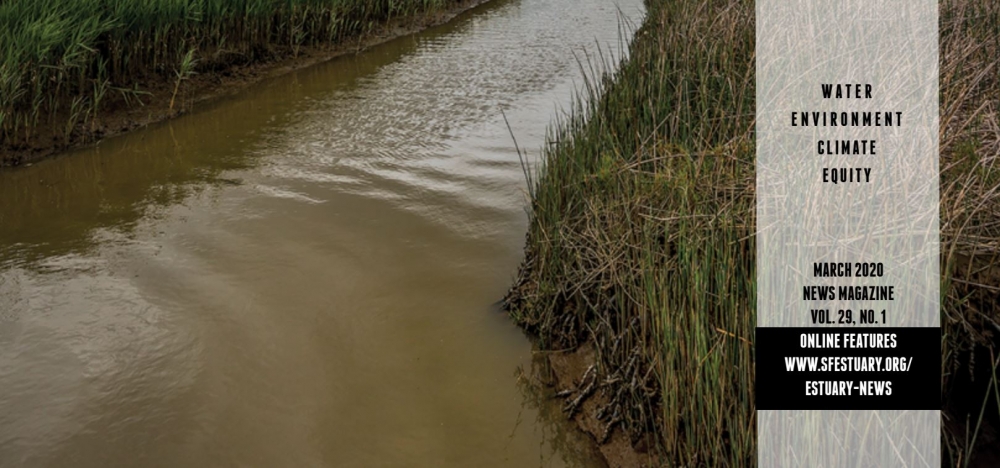 SF Estuary Magazine Puts Spotlight on Watersheds, Delta fish, IRWM - March 2020
Mar 25, 2020 at 9:00am
The latest issue of San Francisco Estuary magazine features special coverage on the resiliency of watersheds. There is also a look at a project that is listening in to track salmon, steelhead, and sturgeon as the move through the Delta. The issue includes details on how integrated regional water management (IRWM) is keeping water flowing to Pajaro Valley farms.
Green Deal for Watersheds

In all my years of covering California water, the term "watershed" pops up again and again as an organizing principle. Yet managing water, land use, wildlife on a watershed scale, from the snow-dusted tippy-tops of the Sierra to the saltwater deeps under the Golden Gate, has always been a mindbender. We've all worked on "watershed management" or restoration plans, and some have even attempted "integrated" water management or "one water" plans. But really corralling all the jurisdictions, property owners, water rights holders, and management agencies in any given watershed into doing something for the whole — in which some give up for others — remains the stuff of wishful thinking
and endless meetings.
In this issue of ESTUARY, we celebrate the ambition of working on the watershed scale. In five stories, we explore everything from dam removal to cold water releases for steelhead to the restoration of creek mouths and former flood control channels. We listen in on where the salmon are moving as they migrate from the Sacramento River's headwaters to the Pacific, and through the maze of the Delta. We count the number of drops of wastewater recycled in the Pajaro River watershed to irrigate the strawberry fields and recharge aquifers. We describe how various visionary planners, engineers, and scientists are going about undoing all we've done to block, constrain, and harness watersheds over centuries. Undone, these vast drainages can go back to distributing floods, moving sediment, feeding fish, hosting willows and wetlands.
In two other stories, we explore how selenium and microplastics travel through watersheds and food webs. As these contaminants break down, runoff, and end up in fish tissues, they remind us that watersheds carry our carelessness downstream. As climate change rattles California, watersheds remain the most powerful scales for adaptation. If we work with them, not against them, they will absorb our atmospheric
river events, buffer us from fire, conserve our water supply, shade our fish habitats, offer corridors for migration and transition, and help us
retreat from rising seas. We've been restoring and greening our watersheds for years but it's time to up our game. They're the most resilient infrastructure we have.
Read more online or from the original posting pdf.