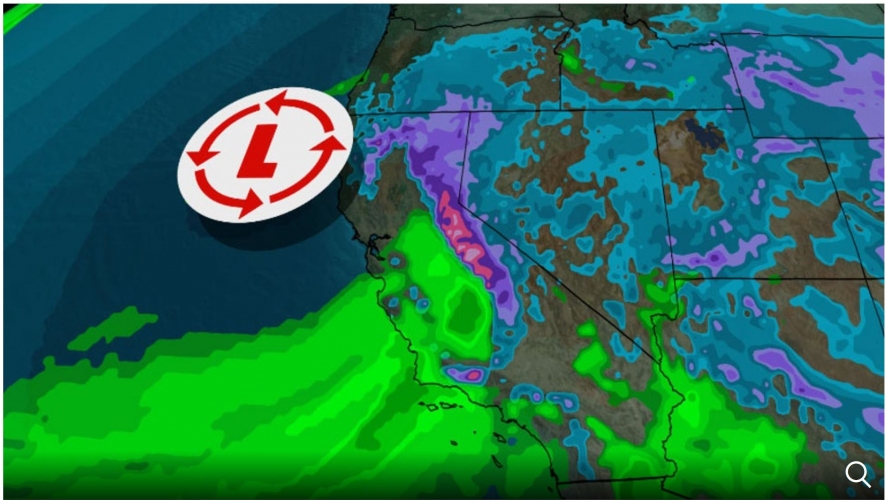 'Miracle March': California's Sierra Nevada Pummeled By Feet of Snow
Mar 16, 2020 at 3:10pm
California's Sierra Nevada picked up several feet of snow, part of a "Miracle March" weather pattern which provided some relief in the form of water-providing snowpack after a record-dry February.
Heavy snow began in the Sierra on March 14 and continued through St. Patrick's Day morning leading to major travel headaches.
Monday night, a section of Interstate 80 westbound near the California-Nevada state line was closed due to multiple spinouts.
A multi-vehicle crash involving a tractor trailer blocked traffic on Interstate 80 westbound above Donner Lake Interchange Monday afternoon.
Early Monday morning, Interstate 80 through the Sierra was closed in both directions, and it was also closed for a time late Saturday night into Sunday afternoon due to zero visibility over Donner Summit.
Typical of a multi-day Sierra snow event, several locations picked up several feet of snow, topped by a report of almost 10 feet of snow at Homewood Resort, on the western shore of Lake Tahoe.
Blue Canyon, California, reported 62 inches of snow on the ground as of March 17. A time-lapse camera estimated snowfall rates at 3 to 4 inches per hour Sunday evening at Northstar, between Truckee and Lake Tahoe.
Snow fell in elevations as low as 2,500 feet in parts of Southern California Monday, prompting a shutdown of the Grapevine (Interstate 5) for a time, with the California Highway Patrol running escorts of traffic over the pass.
Recent Dry Conditions
The term "Miracle March" comes from March 1991 when California was "experiencing the worst drought since the Dust Bowl" and Lake Tahoe was at a record low, according to Tahoe Mountain Lodging. Then, it began snowing March 1, and Lake Tahoe's snowpack increased from 17% of average to 73% by the end of the month.
California is not suffering nearly the magnitude that drought.
Forty-eight percent of the state is now in moderate drought, the lowest grade of drought in the weekly U.S. Drought Monitor.
Read more of the original article here.