Napa Wildlife Rescue News and Volunteer Opportunity!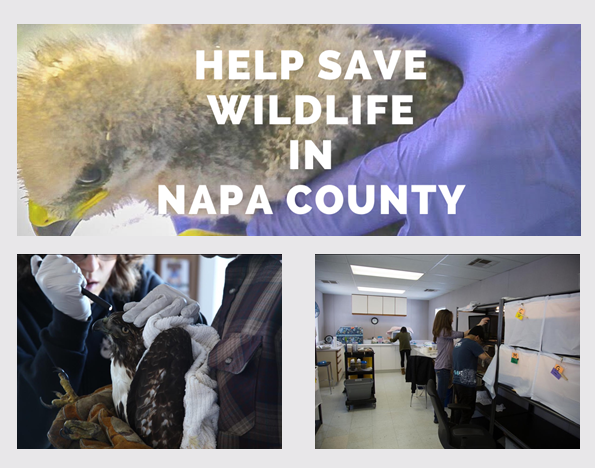 Volunteer Opportunity: Are you passionate about wildlife in Napa County? When you volunteer with Napa Wildlife Rescue, you get hands on experience tending to sick, injured and orphaned wildlife. You also play a critical role in releasing animals back into their native habitat.
Contact us today!
From opossums to songbirds, we stay busy from spring into late summer rescuing, rehabilitating and releasing wildlife in Napa County. Our volunteers make at least a four-hour commitment per week from April through September, are 16 years of age or older, and are enthusiastic about protecting and preserving wildlife!

For more information, call (707) 685-5411
or email wildlifeadmin@napawildliferescue.org
News:
Impacts of Rodenticides
Did you know that it can take ten days for a rodent to die after it consumes rodenticides? Tragically, at Napa Wildlife Rescue, we see firsthand the unintentional consequences of pest control. Studies show that poisons move up the food chain and affect species from mice to mountain lions.

How can you get rid of pests without unintentionally poisoning wildlife?
Remove Food Sources
Seal up pet food and compost bins, remove bird feeders, and attach tree guards on nut and fruit trees.
Reduce Hiding Places and Shelter
During the winter months, remove any ivy and tree limbs three feet from your home, seal up holes in your home.
3. Research local pest control agencies and make sure they only use sustainable approaches like CA's Integrated Pest Management practices.
Meet Ophelia!
We are thrilled to introduce you to Ophelia the Opossum, Ambassador Extraordinaire! Ophelia came to us after being attacked by a cat when she was very small. Although her surface wounds healed, we discovered that she has permanent nerve damage. She can't fully control or grasp with her front paws and climbing is an essential survival tactic for these North American marsupials. Since she is not able to evade predators and survive in the wild, Ophelia is now is living out her life with us, educating the public about local wildlife in Napa County!
For more information, call (707) 685-5411
or email wildlifeadmin@napawildliferescue.org