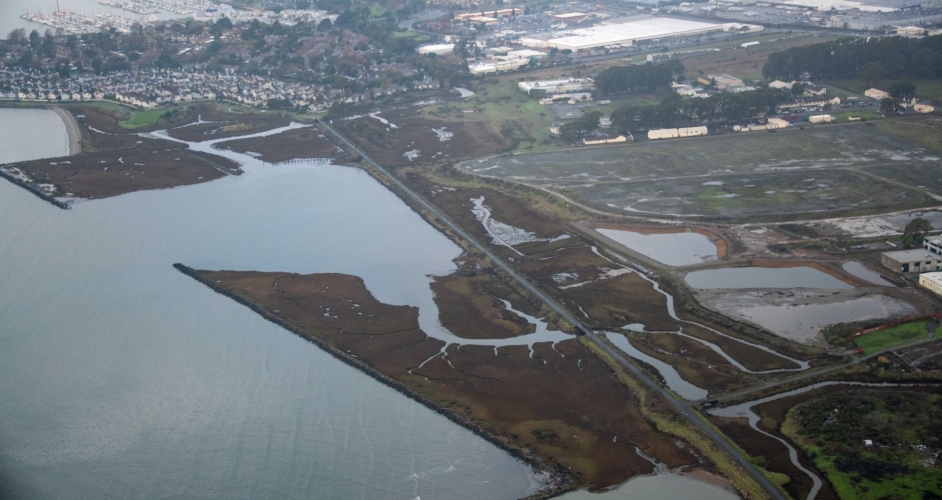 King Tides Sound A Pollution Alarm In The Bay
Jan 21, 2020 at 5:40pm
Last month, high tides in San Francisco Bay washed up onto the shoreline of a large former pharmaceutical company in Richmond. A few hours later, the outgoing tide pulled contamination—including pesticides, toxic chemicals and radioactive waste—off the industrial land and into the Bay.
Right now, this occurs a few times every year during the highest tides, known as king tides, which are one to two feet higher than normal high tides. With sea levels rising over the coming decades, however, flooding waters like this could hit polluted shoreline sites every day.
King tides aren't related to sea level rise. They're caused by certain gravitational pulls of the sun and moon. But king tides do allow us to forecast what's coming as water levels rise in the next few decades.
Sadly, what's ahead is a major threat to the Bay and its wildlife. Baykeeper's ShoreView website identifies more than 1,100 contaminated sites that could be flooded. Unless these sites are cleaned up in advance, a torrent of toxic waste will wash into the Bay. These most vulnerable sites need cleanup before the water rises.
The Bay's wetlands also need to be built up. Wetlands soak up water like a sponge, protecting shorelines against rising water and shoreline communities from flooding and storm surges. They filter pollutants, keeping contamination out of the Bay. And wetlands store carbon, helping to slow climate change.
Some cities are meeting the challenge of taking these kinds of preventive measures.
The City of Alameda, for example, recently approved construction of DePave Park. This involves removing hard pavement from 16 acres of the Alameda Point shoreline to make way for a public park and coastal wetland. This new wetland will help shield the low-lying island city from rising water levels in the Bay.
But some Bay Area cities are moving backward and approving new shoreline development on sites where wetland restoration is desperately needed. Leaders of the South Bay city of Newark recently approved construction of more than 400 luxury homes at the edge of the city's wetlands. The 430 acres of land slated for this development were once wetlands that were filled in during the 20th century.
Read more of the full original article here.