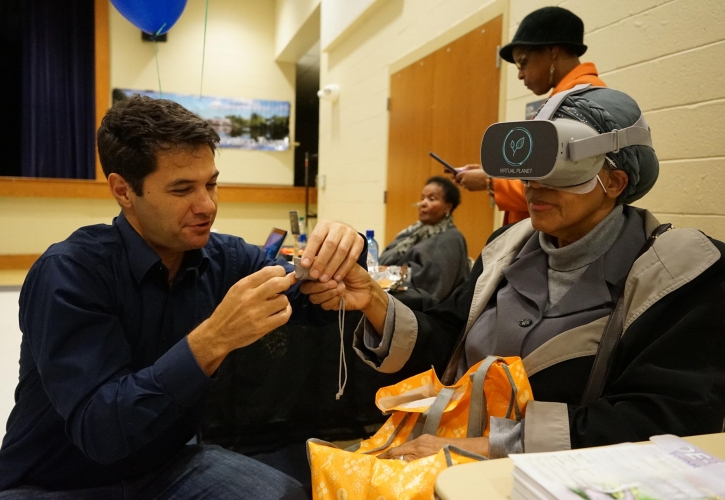 'An Eye-Opener': Virtual Reality Shows Residents What Climate Change Could Do
Nov 24, 2019 at 12:00pm
Connie Monroe clicks a button, flicks her wrist and watches as her neighborhood floods.
The reed-covered shorelines are first to go. Then, the baseball fields at Fleming Park. By the time seawater reaches the senior center, it has inundated streets, flooding more than a dozen multiunit brick homes that she can see.
Monroe moves her head up and down, side to side, taking in the sobering simulated view. This is what could happen to Turner Station, a historic African American community southeast of Baltimore, as sea levels rise.
"Everything's underwater. The school is underwater. Our house is underwater," Monroe says. A frown forms below the bulky gray virtual reality headset covering her eyes. "Is the water really supposed to get that high?"
Climate change presents many challenges to coastal communities and to those trying to prepare for its impacts, but one of the most basic is also one of the most vexing: How do you show people — and convince them — of a possible future?
It's one thing to hear or read that sea levels could rise as high as 7 feet in Maryland by the end of the century under worst-case scenarios, but it's another "to imagine what that will look like in your own backyard," says Jackie Specht, the coastal science program manager for The Nature Conservancy's Maryland/DC Chapter.
"And if it's hard to imagine, it's hard to face and prioritize, especially when there are so many tangible issues that [people are] facing in the day-to-day."
Communicating the realness and immediacy of the climate threat is hugely important to climate researchers and those aiming to mitigate its causes. But it's also paramount to communities faced with coming changes that are already unavoidable.
Climate resiliency projects need public support and input.
That's why Monroe and other residents at this recent community meeting are being directed to sit in metal chairs, put on virtual reality headsets and watch their homes flood.
Continue to read original article here.