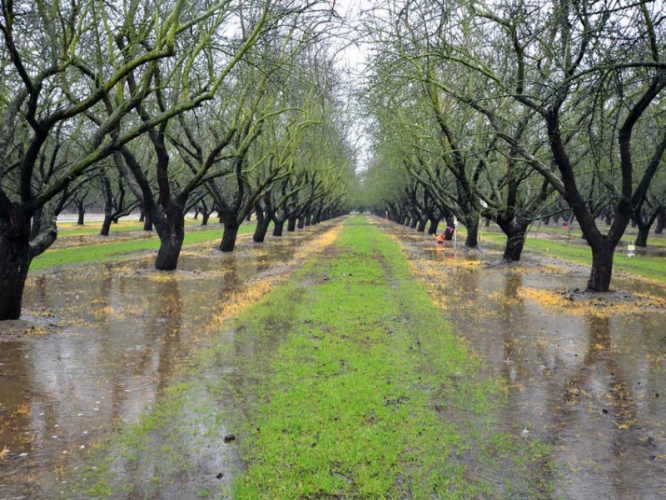 Water officials work to assist recharge projects
Nov 6, 2019 at 4:00pm
A technique that would help California manage floodwater and replenish groundwater has gained more attention, and removing barriers to the strategy known as Flood-MAR provided the focus for a conference in Sacramento.
Flood-managed aquifer recharge involves moving floodwater from surface streams onto land where it could percolate into a groundwater basin. Though the concept sounds simple, it brings complications that include managing the floodwater, finding appropriate land to accept it and establishing rights to the water involved.
At last week's conference, about 200 state water officials, farmers, researchers and representatives of non-governmental organizations gathered to discuss aspects of Flood-MAR such as formulating multi-benefit projects, incentivizing aquifer recharge, its application to the Sustainable Groundwater Management Act, and improving policy and regulations to support the strategy.
"The intended outcome of this forum is to engage stakeholders from multiple sectors, disciplines and organizations to look at strategies and innovation to advance flood-managed aquifer recharge in California," said Kamyar Guivetchi of the California Department of Water Resources. "For Flood-MAR to be successful, it is all about partnerships and voluntary participation. We really have to move toward a co-management approach."
Noting that much progress has been made in recent years to move Flood-MAR forward in California, Ashley Boren, executive director of Sustainable Conservation and a member of the State Board of Food and Agriculture, said the strategy fits with Gov. Gavin Newsom's water resiliency portfolio, which emphasizes the importance of prioritizing multiple-benefit projects and natural infrastructure. She added that the State Water Resources Control Board issued guidance on when recharge can be considered a beneficial use of water.
Read the full article.