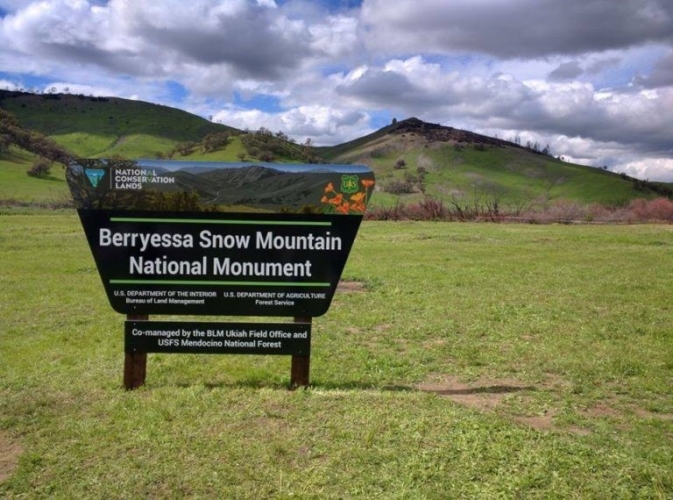 Celebrate Berryessa Snow Mountain National Monument's Birthday with a Visit!
Jul 10, 2019 at 4:00pm
Our public lands are an iconic part of what it means to be an American. In 2015, President Barack Obama permanently protected the Monument's 330,780 acres of federal public land. What better way to celebrate the anniversary of Berryessa Snow Mountain National Monument than by exploring it?
"The Monument is the heart of northern California's wild Inner Coast Range. Once covered by ocean waters, it is a landscape shaped by geologic forces of staggering power overlain with bountiful but fragile biodiversity. Anchored in the north by Snow Mountain's remote forests and in the south by scenic Berryessa Mountain, this area stretches through unbroken wildlands and important wildlife corridors, a mosaic of native grasslands, picturesque oak woodlands, rare wetlands, and wild chaparral." President Barak Obama, July 10, 2015 [1]
Berryessa Snow Mountain National Monument extends from a mere 400 feet above sea level at the bottom of Berryessa Peak in the south, up to 7,000 feet through the northern Snow Mountain Wilderness and the eastern boundary of the Yuki Wilderness in the Mendocino National Forest. This is a landscape filled with ancient, historic and modern stories, dramatic geology, remarkable biological diversity, and a rich history. In addition to its wealth of natural, historical and cultural resources, the Monument offers exciting recreation opportunities, including hunting, fishing, hiking, mountain biking, legal OHV use, and horseback riding to a burgeoning population center.
The Monument's chaparral ecosystems at lower elevations transition to mixed conifers, open oak savannas interspersed with wet meadows, and then, at higher elevations, thick stands of fir, weather-shaped Jeffrey pine and incense cedar surrounded by exposed rock formations. Two old-growth forest areas, a state game refuge, and three research natural areas provide habitat for a variety of threatened and endangered species, including northern spotted owls, marten and fisher, as well as waterways for California Coastal chinook salmon and Northern California steelhead. Visitors to the area may see bald eagles, black bears, river otters, coyotes, deer, Tule elk, mountain lions, songbirds and many other wild animals roaming across this diverse, remote and rugged landscape. In the higher-elevation Snow Mountain area, the biological diversity is among the richest in California. Home to the headwaters of the Eel River, and the Stony, Cache, and Putah Creeks, the Berryessa Snow Mountain National Monument's waters are a crucial element of this landscape.
Recreational opportunities abound. Berryessa Snow Mountain National Monument includes three Wilderness Areas for non-motorized adventure. There is hiking, camping, backpacking, hunting, fishing, mountain biking, and horseback riding throughout the Monument. There is whitewater for kayaking on Cache Creek in the southern portion of the Monument – the closest whitewater river available to Sacramento and the San Francisco Bay Area. The Mendocino National Forest has an excellent designated off-highway vehicle trail system, with part of the network in the Monument. There are also hang guiding launch points for those wanting an aerial view of the Monument [2]. And, hiking trails wind throughout the Monument.
We have numerous choices in our backyard. But, remember, it is hot out there and fire season. Safety first, for you and our public lands. So, gather up family and friends, your supplies, and celebrate Berryessa Snow Mountain National Monument!
For more information on the Monument, or to find trails, visit Tuleyome's website.
[1] Presidential Proclamation – Establishment of the Berryessa Snow Mountain National Monument, July 10, 2015.
[2] United States Forest Service, United States Department of Agriculture, Berryessa Snow Mountain National Monument, https://www.fs.fed.us/visit/berryessa-snow-mountain-national-monument (July 9, 2019).