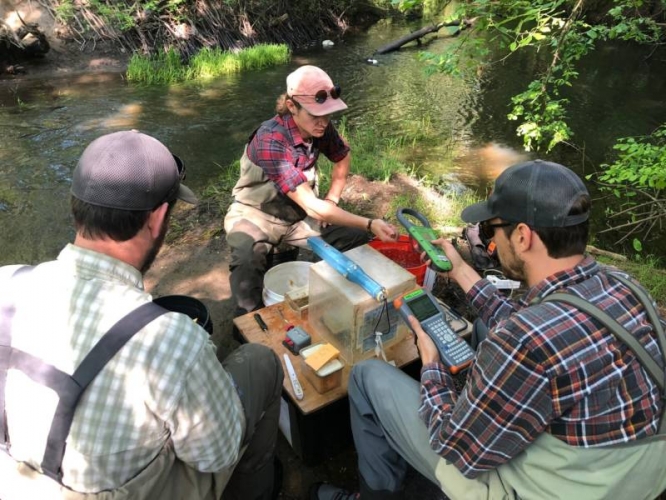 Hatchery-Born Coho Salmon Are Helping Save the Species From Extinction in the Russian River
Jun 11, 2019 at 11:00am
At the beginning of this century, the coho in the Russian River were almost completely eradicated.
"We were seeing less than 10 adults returning to the Russian River watershed, when years ago there were thousands of fish returning," says Mariska Obedzinski, who helps run California Sea Grant's Russian River Salmon and Steelhead Monitoring Program.
The Russian River watershed was once a stronghold for Central California's coho salmon population, but Obedzinski says things like extreme habitat loss and drought years have led to the downturn. According to California Sea Grant, the state's coho has dwindled down to an estimated 15% of its population in the 1940s.
Now the program releases thousands of smolt, at different life stages, throughout the year in the Russian's tributaries. More than 1.5 million smolt have been released since the program began. The fish are closely monitored to see how they're surviving, but watching over these young fish after releasing them into the wild is no easy task.
A contraption, made up netting and pipes, funnels anything going downstream into a covered, wooden box. On any given day, anywhere from a handful to hundreds of smolt can be found inside. And sometimes, other aquatic animals get stuck in the trap too.
Then a portion are measured and weighed. An even smaller portion get trackers implanted in them, which help biologists monitor the migratory habits of the smolt and find out whether the fish come back to these creeks as adults to spawn.
Click here to read the full article.