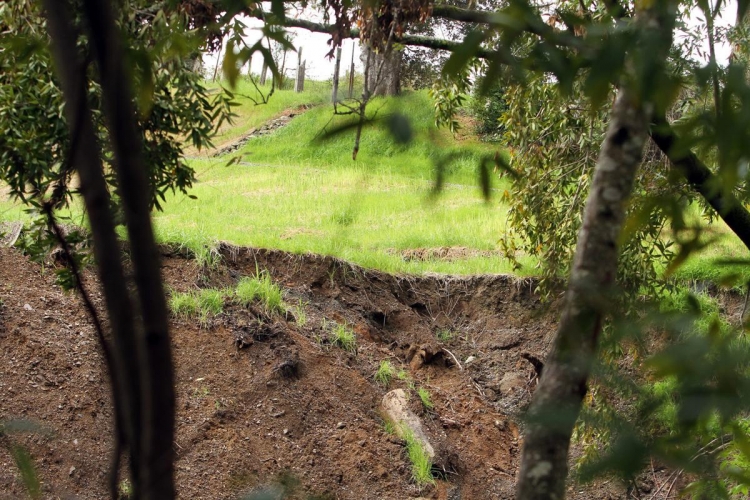 Winter storms in Napa renew sliding of Browns Valley Creek banks, worrying homeowners
Apr 3, 2019 at 12:00pm
The Napa County Flood Control and Water Conservation District reports that stream banks are slowly slipping along two stretches of Browns Valley Creek, in an area where storms in early 2017 put at least three homes at risk. The problem areas are near a culvert in the 1100 block of McCormick Lane and behind Browns Valley Market just east, according to operations manager Rick Thomasser.
The renewed ground shifts have meant renewed anxiety for Leigh Ann Harmon, whose patio skirts the edge of Browns Valley Creek. With wintertime rainfall has arrived water levels as high as 10.11 feet on Feb. 16, only two feet below the flood stage, and with it a scouring of stream banks that has chipped away closer to the backyard of the house she and her husband built a decade ago.
The effects of heavy rains was even more dramatic on the bank opposite Harmon's home, where the landslide had exposed a sheer wall of brown soil where a few roots dangled from the edge of the turf remaining on top.
According to Harmon, county flood control district workers have visited her property several times, usually to cut away fallen tree limbs and branches that could cause water backups and higher stream levels unless they were removed.
While Harmon's house is not under immediate threat, she and her husband remain wary that further slides and debris eventually may block the creek completely, leaving the yard and first floor vulnerable to flooding. After two more trees fell across the creek while they were on vacation in mid-February, the couple had about 200 Santa Barbara sedges planted on their side of the stream bank in March, in hopes that the roots will grow and anchor the soil over the next three years.
Click here to view the full article.