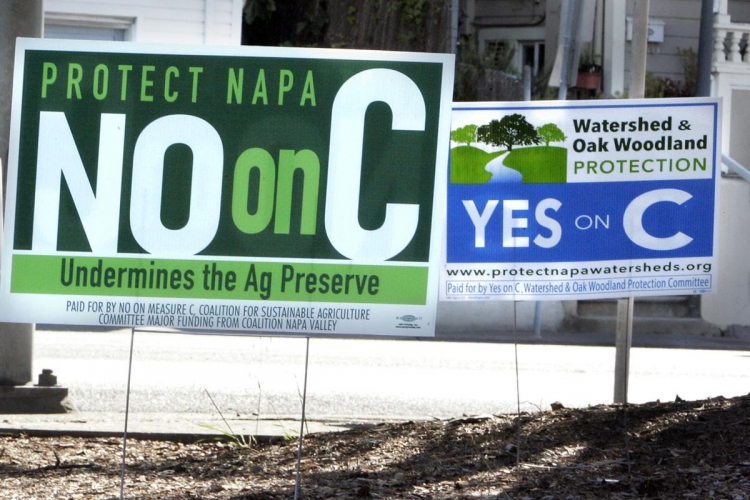 Napa's Board of Supervisors swamped with public comments over vineyard development rules
Jan 30, 2019 at 2:00pm
Supervisors are trying to resolve the Measure C battle that has split the community. The watershed and oak protection citizens' initiative narrowly lost in the June 2018 election.
"Right now, we're just doing our best to define the policy questions," said Board of Supervisors Chairman Ryan Gregory as supervisors took a break in their deliberations in a meeting that topped six hours Tuesday.
Many of the community disagreements come down to how many oaks to protect and how far to keep new vineyards and other development away from streams and city reservoirs. Supervisors went through a list with 17 staff recommendations and gave their opinions.
The Board unanimously favored banning most development on slopes 30 percent or greater, such as most new vineyard development. A map shows this 30-percent slope land covers much of the county.
Measure C backers wanted to increase the tree canopy protection to 85 percent. The Napa County Farm Bureau, Winegrowers of Napa County and Coalition Napa Valley suggested keeping the present law without extending protections beyond the municipal watersheds.
Napa Valley Grapegrowers President Paul Goldberg urged supervisors not to hastily add to the regulations faced by farmers.
The Center for Biological Diversity claimed to be using science. Among other things, it called for protecting 90 percent of the oak woodland canopy and 60 percent of grasslands and shrub land in a county that is a "biodiversity hot spot" with 150 special-status plant and animal species.
Click here to view the full article.