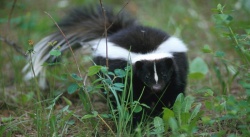 Event: CANCELED - WILD St. Helena: Skunks
Date:
Thu, Oct 12th 2017, 6:30pm - 7:30pm
Location:
1492 Library Lane, St. Helena, CA 94574
Description:
Join Jen Hunter as she shares her PhD research on skunks. She is an avid skunk enthusiast and promises that by the end of the night, you will have a new appreciation for our mysterious native skunks.
The event is free to attend.