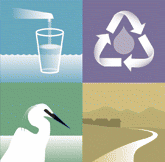 Event: Bay Area IRWM Meeting
Date:
Mon, May 22nd 2017, 1:00pm - 2:30pm
Location:
Santa Clara Valley Water District Headquarters Building, Room A‐318; 5700 Almaden Expressway; San Jose, CA 95118.
Description:
Meeting materials are available on the Bay Area IRWMP website: http://bairwmp.org/. To conserve paper, please plan on bringing your own set of meeting materials.