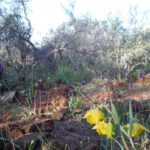 Event: Pope to Putah Trail Work
Date:
Sat, Apr 22nd 2017, 7:30am - 9:00pm
Location:
Pope-to-Putah Trailhead, across the road from 2950 Pope Canyon Road, Napa
Description:
Help improve the Pope-to-Putah Trail with our trail guru, Eric "Bam Bam" Barnett. The re-route of Brutus continues to make the first climb on the trail a little less rugged. The work area is a short hike from the trailhead and is ideal for those who wish to help out on Saturday or Sunday only. For those who would like to help both Saturday and Sunday, come prepared to camp! Work will consist of brushing a series of switchbacks.
You will need a good pair of boots; long pants and shirt are suggested. It will be warm, so bring a hat for the sun and at least two liters of water. Please bring any medications that you need.
For details on exactly where and when to meet and what kind of work is going to be done on the day, contact Eric directly at bambam@tuleyome.org.