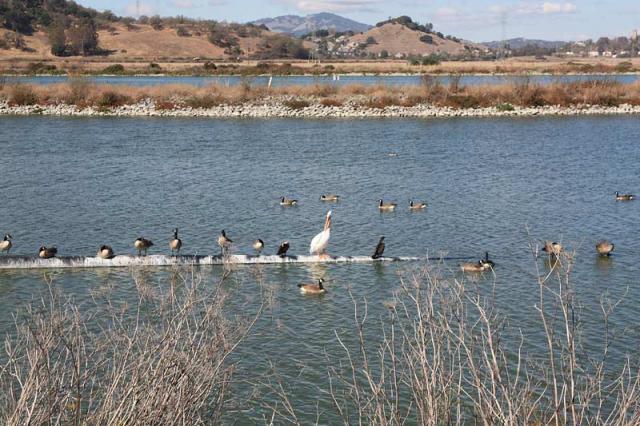 Event: Las Gallinas Ponds Walk
Date:
Sun, Mar 12th 2017, 7:30am - 12:00am
Description:
The Las Gallinas are the birding community nickname for the treatment ponds and surrounding agricultural fields and tidal marsh at LGVSD's Wastewater Treatment Reclamation Project. The area includes two wastewater treatment ponds, a freshwater pond with islands for nesting habitat, and several miles of flat levee trails. It attracts thousands of birds, Including waterfowl such as ducks, geese; waders such as herons and egrets; songbirds; as well as varied raptors. This casual walk on two miles of flat trails is fun and informative.
Directions:
From Hwy 101 exit at Smith Ranch Road. Drive east on Smith Ranch Road to McInnis Park. Turn left after immediately crossing the railroad tracks and drive about .5 mile through the LGVSD gates and into the parking lot at the end of the road. Meet the group at the bridge just past the parking lot.
Bring water and snacks, binoculars and spotting scopes.
Carpool information:
Napa carpool departs at 7:00 am. Meet on the east side of Sweeney's Sports Shop in the River Park Shopping Center.
Cordelia carpool departs at 7:10 am
Solano Education Building, 5100 Business Center Dr., Fairlfield.
No RSVP needed. For information, contact Wendy Cole beehaven2@comcast.net or 707 963-2331