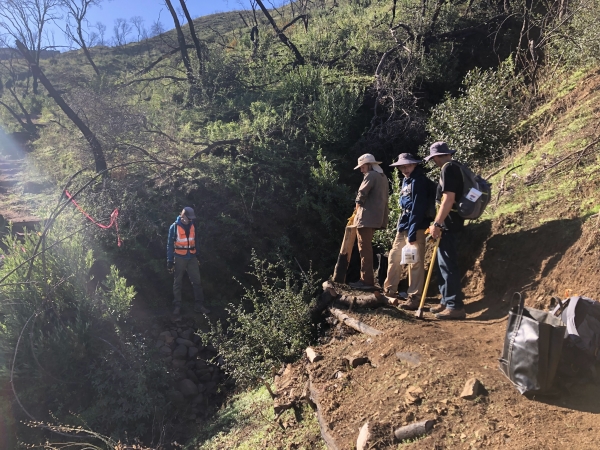 Trail Maintenance at Stebbins Cold Canyon
Join Tuleyome as we help the University of California, Davis maintain the trails at Stebbins Cold Canyon!
This popular hiking location requires care and maintenance throughout the year. All participants will be required to follow Tuleyome and UC Reserve COVID-19 safety guidelines including masks and social distancing. Please arrive by 9 am at the upper parking area (on the side of CA-128). A full scope of work will be available closer to the event date.
Long sleeves, pants, and sturdy shoes or hiking boots are recommended. Please see the COVID-19 guidelines below to ensure everyone's safety. This event may be canceled due to health and safety guidelines.
Please bring snacks, lunch, WATER, and work gloves – Tuleyome will provide needed tools. Dress for the weather and getting dirty!
Questions? Contact Nate Lillge at nlillge@tuleyome.org.
Note: All participants agree to abide by the terms and conditions of Tuleyome's waiver of liability which can be seen and downloaded HERE. All participants also understand that photographs will be taken at the event. If you do not wish to be photographed, you must tell the photographer and avoid the cameras' line of sight.
A $10 donation to Tuleyome is requested, but is not required to participate in this event.
TULYOME'S COVID-19 GUIDELINES FOR TRAIL MAINTENANCE/BUILDING
Tuleyome staff will have hand sanitizer at all events; participants are encouraged to bring their own.
Participants must arrive with – and have on their person at all times – a mask/face covering.
Each participant must have his/her own water and water bottle(s). No sharing will be allowed.

Exceptions:

Sharing within a family or 'unit'
Tuleyome staff may take extra water in a clean and sanitized bottle from which to refill if needed.
Emergencies

Each participant must provide his/her own snacks, lunch, food. No sharing will be allowed.

Exceptions:

Sharing within a family or 'unit'
Emergencies
UNVACCINATED participants must wear a mask when within 6 feet of other participants.
Exception:
Tuleyome staff will inform all participants of these guidelines BEFORE leaving trailhead and will remind the group throughout the event.
Registration for this event can be found here.