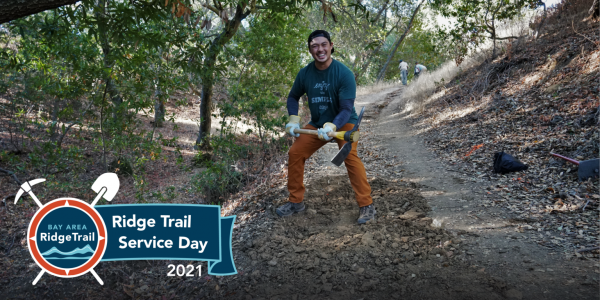 Ridge Trail Service Day
The annual Bay Area Ridge Trail Service Day is set for November 6th and Napa Open Space District is hosting a project with friends at the Redwood Trails Alliance at Robert Louis Stevenson State Park.
Pitch In! 400 miles of Ridge Trail needs your help
400 is a lot of trail miles to care for! We need your help to keep the Bay Area Ridge Trail in tip top shape! On Saturday, November 6 give back to some of the nearly 400 miles (and growing!) of Ridge Trail. You can sign up for an in person volunteer project on November 6th and/or do your own DIY Ridge Trail stewardship project any time during November.
What is Ridge Trail Service Day?
For 14 years Ridge Trail Service Day has been one of the biggest single day volunteer trail projects of the year. Hundreds of volunteers, several projects across the Bay Area, all on one trail!
Registration for the Ridge Trail Service Day can be found here.