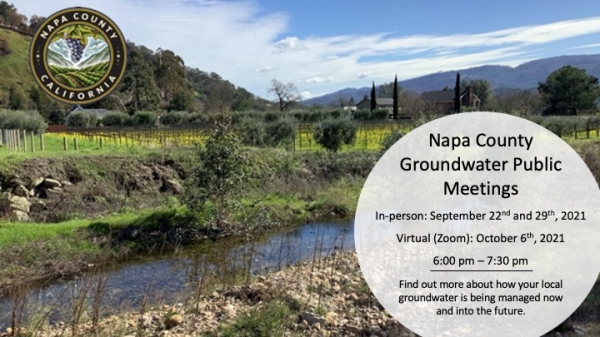 Napa County Groundwater Public Meeting #2
The Napa County Groundwater Sustainability Agency (GSA), as required by State Law, has prepared a Draft Groundwater Sustainability Plan. You are invited to a public meeting to hear more about what is in the plan and how it may affect you. The County would like to receive the public's input on the plan, especially with respect to future actions the GSA could take to maintain the health and sustainability of our groundwater subbasin.
The public is invited to participate in any and all public meetings. Preregistration for in-person meetings is available here.
For more information on the Groundwater Sustainability Plan, visit the Napa County Groundwater Sustainability website.
*NEW* THIRD PUBLIC MEETING, VIRTUAL: October 6, 2021
Location: Zoom
Register: https://us02web.zoom.us/meeting/register/tZUoceqqqDgvH9dJk4yaQSO9kZS2-l3dznyC
The SECOND PUBLIC MEETING: September 29, 2021
Location: Napa Valley College Upper Valley Campus
Multipurpose Room 9A & 9B
1088 College Ave, Saint Helena, 94574
The FIRST PUBLIC MEETING: September 22, 2021
Location: Napa Valley College
NVC Little Theater (RM 1231)