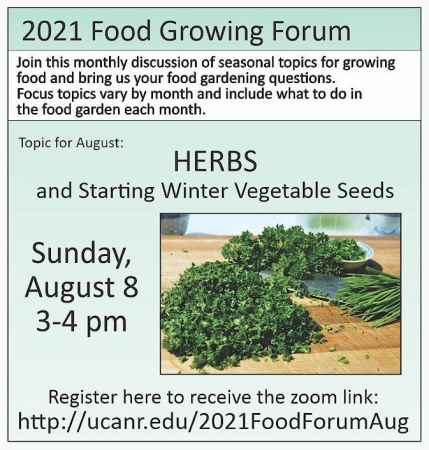 August Food Growing Forum: Culinary Herbs & Winter Vegetables from Seed
JOIN OUR FOOD GROWING FORUM - a monthly discussion of seasonal topics about growing food with time for your food growing questions.
Held on the 2nd SUNDAY each month, now through NOVEMBER in 2021, 3:00 PM - 4:00 PM by zoom.
(no meeting in December 2021, check our website calendar for future topics and dates)
Focus topics vary by month and include what to do in the garden for that month.
August's topic is Culinary Herbs & Winter Vegetables from Seeds and what else to do in the food garden this month.
This is a FREE live Zoom event.
You must PRE-REGISTER to receive the link.