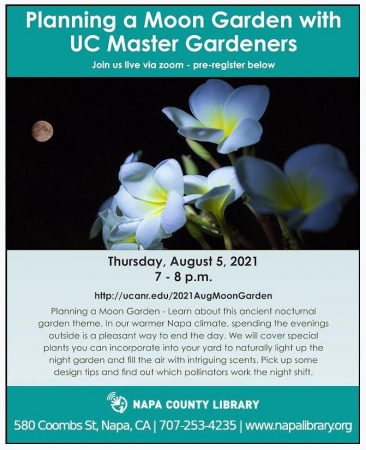 Planning a Moon Garden with UC Master Gardeners
Planning a Moon Garden - UC Master Gardeners & Napa Library August 5
Join the UC Master Gardeners of Napa County to learn about Planning a Moon Garden on Thursday, August 5, 2021 7:00 - 8:00 p.m. by zoom.
In our warm Napa climate, spending the evenings outside is a pleasant way to end the day. Learn about this ancient nocturnal garden theme. We'll cover the special plants you can incorporate into your yard to naturally light up the garden at night and fill the air with intriguing scents. Pick up some design tips. Find out which pollinators work the night shift.
This is a FREE live On-Line event through Zoom.
You must PRE-REGISTER HERE