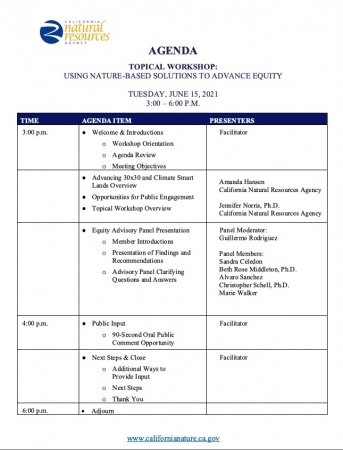 Topical Workshop: Using Nature-Based Solutions to Advance Equity
The Equity Advisory Panel collaborated to distill current knowledge on social equity, highlight gaps and needs, and develop recommendations to inform the State's commitment to conserve 30 percent of California's lands and coastal waters by 2030 (30×30) and enlist California's vast network of natural and working lands in the fight against climate change.
The Panel includes specialists from academic institutions and practitioners from across California, representing expertise in public health, equitable access to green space, environmental policy, community benefits, racial and economic oppression, and environmental justice. Equity will be the sole focus for this Panel and will be an integral part of all topical panels. The State is committed to advancing equity throughout the development and implementation of its climate smart lands strategy and Pathways to 30×30.
Please join us on June 15 for a virtual topical workshop that will feature a presentation from the Advisory Panel, as well as an opportunity to provide input on how CNRA and its partners can deliver on the state's goal to promote equity through its conservation and climate smart land strategies.
See the Event Details & Read the Agenda
Read about the 30x30 Plan from CA.GOV
Check out more workshops and ways to get involved in the plan