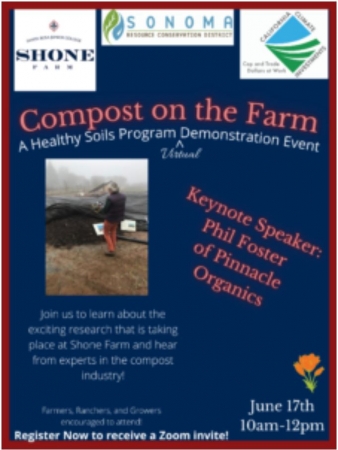 Compost on the Farm with Sonoma RCD
Interested in soil health? Join us for a virtual field day on compost as a tool for improving soils.
Santa Rosa Junior College's Sustainable Agriculture program, Shone Farm, and the Sonoma Resource Conservation District invite the agriculture community to a free webinar focused on making and using compost on farms.
Keynote speaker Phil Foster will share details from his many years of producing and applying significant amounts of compost on his central coast fruit and vegetable farms. Will Bakx of Renewable Sonoma will describe the covered aerated static pile composting system and on-farm composting education at Shone Farm. SRJC faculty member Dr. Josh Beniston will introduce the Shone Farm Healthy Soils Demonstration Project that is utilizing compost to improve soil health in pastures. A panel of expert growers of both wine grapes and vegetables will share the nuts and bolts from their experiences with using compost in their farming systems. There will also be time for questions and answers. Don't miss this opportunity to gain a better understanding incorporating compost into your farming!