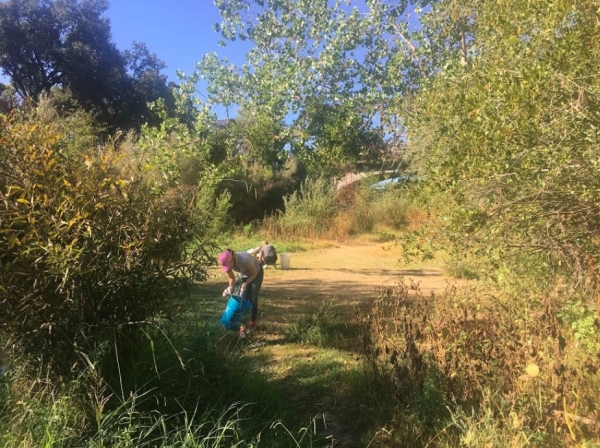 Join Putah Creek Council for a Creek Cleanup Event this April!
Spring has arrived and that means its time for some spring cleaning! Help Putah Creek Council "take out the trash" during our Spring Cleanup Month. Starting this weekend, April 3rd, we will be hosting cleanup events all month long.
Trash in the creek isn't only unsightly, it's also a serious hazard to both wildlife and humans alike. Removal of trash along the creek helps to keep our water, wildlife and community healthy! Be sure to keep an eye out for trash in your neighbhorhoods, too. Trash in stormwater drains in our streets often finds itself down at the creek.
Join us on April 3rd, 10th, 17th and/or 24th for community stewardship of our creek as we remove trash from various stretches of Putah Creek in Winters and Davis. This is a great way to get outside and enjoy the beauty of Putah Creek while doing something you can feel good about!
WHERE TO MEET: Winters Rotary Park gazebo. We will be caravaning from the park to Dry Creek. As a courtesy to other volunteers and Putah Creek Council staff, and to help the cleanup run smoothly, please arrive on time.
WHAT TO BRING/WEAR: Wear long pants, closed-toe sturdy shoes, a hat and sunscreen. We will provide gloves if needed, but feel free to bring your own! Bring a full, refillable water bottle (additional water will be available) If you have one, bring a bucket or reusable bag for trash (additional bags and buckets will be available). If you are under 18, you must bring a waiver form, SIGNED by your parent/guardian, to participate in the cleanup.
COVID Safety: Putah Creek Council values the health and safety of our community. We will provide handwashing stations, sanitized tools, and masks if needed. We ask that you wear a mask during the event and practice social distancing.
SCHEDULE:
9:30 AM Meet at Rotary Park Gazebo, sign waivers, pick up supplies

9:45 AM Caravan to Dry Creek

10:00 AM - 12:00 PM Clean trash from Dry Creek
Questions? Please contact Jacob Sloan, Stewardship Program Assistant at jacob@putahcreekcouncil.org or (661) 972-1124.