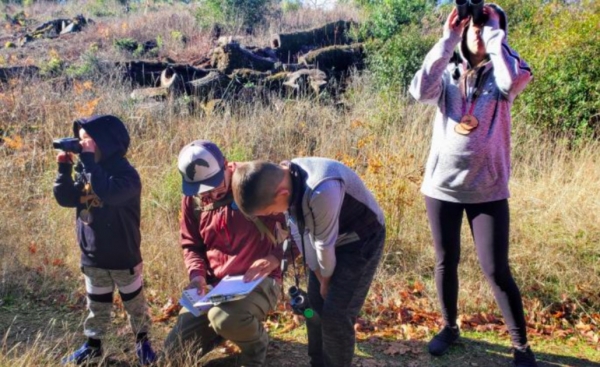 Aprende con un Naturalista: Caminos Hacia la Ciencia
¿Te gustaría trabajar ayudando a las personas y al planeta? Acompáñanos a escuchar las aventuras de tres científicos Latinx asombrosos que trabajan en la investigación, educación y conservación. Aprende que hicieron a tu edad para llegar a ser científicos, y que problemas tuvieron en el camino. Tendrás mucho tiempo de hacerles preguntas y escuchar consejos para saber como llegar a ser un científico. Para encontrar soluciones a los problemas ambientales, necesitamos muchos científicos que piensen de maneras distintas y sean de lugares diferentes, así como tú. ¡Te invitamos a ser parte de la solución y a que te diviertas en el proceso!
Líder
Gabriela Arango, Estudiante de doctorado en UC Berkeley y Fundadora de Crecer ConCiencia
Con:
Lmar Babrak, Investigadora Científico, University of Applied Sciences and Arts Northwestern Switzerland FHNW
Mayte Guerrero, Maestra de Ciencias, Pomolita Middle School
Elias Lopez, Especialista en Conservación del Medio Ambiente en LandPaths y Co-fundador de Crecer ConCiencia
Eri Sawairi, Naturalista, Center for Environmental Inquiry, Sonoma State University
Logística
No se necesita experiencia o conocimiento previo. Todas las edades son bienvenidas, pero el evento es recomendable para estudientes de High School.
Los detalles de Zoom se le enviarán al registrarse. Si nunca ha usado zoom, tome en cuenta el tiempo que toma en descargar la aplicación. Trate de conectarse unos minutos antes del evento por cualquier falla tecnológica.
Cómo registrarse
Por favor manda en un correo electrónico tu nombre y apellido, código postal, y en que grado vas o que trabajo tienes a winingek@sonoma.edu
Sobre el centro
El Centro de Investigación Ambiental de la Universidad Estatal de Sonoma faculta a los estudiantes universitarios para trabajar con miembros de la comunidad en los desafíos ambientales de North Bay. Nuestra misión es crear una sociedad comprometida y ambientalmente preparada, donde todas las personas tengan las habilidades para encontrar soluciones a los desafíos que enfrenta nuestra tierra. Las reservas SSU están abiertas a todos los que se dedican a la educación o la investigación. Reservaciones obligatorias.