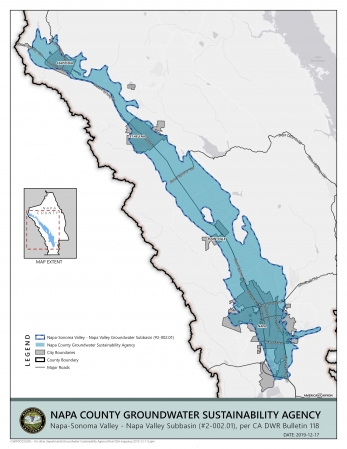 Napa County Groundwater Sustainability Agency (GSA) Meeting
The next GSA meeting will be Tuesday, June 9th
The May 19th, 2020 meeting of the Napa County Groundwater Sustainability Agency (GSA) has been rescheduled for June 9, 2020, at 1:45 pm.
Videos, agendas, and any meeting materials for Napa County GSA are available on the GSA's agendas and minutes webpage.
Tentative agenda items for the June 9th GSA meeting include:
Presentation and acceptance of the 2019 Groundwater Monitoring Report,
Appointment of Groundwater Sustainability Plan (GSP) Advisory Committee members,
Approval of facilitation and groundwater consultant service agreements to support GSP development,
Adoption of a GSA Conflict of Interest Code, and
Approval a Meeting Minutes.
Visit this link for additional information on the GSA and Sustainable Groundwater Management.